First Look At Upcoming Graphic Novel 'Dear Justice League'
I saw that Dear Justice League was coming out as part of Free Comic Book Day, I thought it was a one off! I was wrong, and I am so glad I was wrong. This is just a sneak peak to an upcoming graphic novel, and I can't wait to read the full story.
This upcoming book is aimed towards children, but that won't stop me reading it. The book is written by Michael Northrop, and showcases a slightly different take on our favourite heroes. What if you could ask your favourite hero your most burning question? Well, that's the concept, and I love that. I feel that this is really going to kick start children into reading comics, and loving superheroes just as much as us adults do.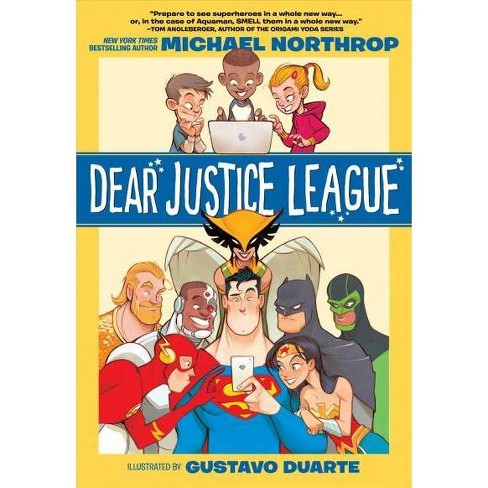 Here is the official blurb from DC Comics:
"The greatest heroes in the DC universe, the Justice League, answer mail from their biggest fans—kids!—courtesy of Michael Northrop, New York Times bestselling author of TombQuest, and artist Gustavo Duarte.

Does Superman ever make mistakes? What was Wonder Woman's eleventh birthday like? Does Aquaman smell like fish? In this new middle-grade graphic novel, iconic heroes are asked questions both big and small, and when they are not busy saving the world, the Justice League even finds time to respond. Their honest and humorous answers will surprise and delight readers of any age, as it turns out that being a superhero is not too different from being a kid.

Full of feats, follies, and colorful illustrations, Dear Justice League gives readers the inside scoop into everyday heroics, no matter who wears the cape!"
As mentioned we got a inkling of what this new graphic novel was all about on Free Comic Book Day. I picked it up, of course – eager to see what to expect. As part of FCBD two chapters of the book were released, and here's what I thought about those.
It isn't as childish as you would think, it covers some great pointers and life lessons for both children but also adults. It perfectly brings the standard ways of a millennial – in the sense that it revolves around the digital world and mobile phones. It brings a completely different perception of our "perfect" heroes, and makes them so much more relatable and human, and I absolutely love that!
It's easily digestible with lots of fun, easy-going action along the way. This is a perfect pace and tone for kids, as they can tend to get bored easily. The artwork is by Gustavo Duarte and is extremely lovable and cartoonistic, the perfect style for this tone of book. I sped through the two chapters in minutes, and I already cannot wait to read the full thing. This story is perfect.
Dear Justice League is out on 6th August and will cost $9.99, and I expect for us UK folk £9.99! It is a book I certainly will be purchasing.