REVIEW: Krypton – Tales From The Phantom Zone
SYFY and DC Comics have joined forces to create a 3-page digital comic for Krypton – Tales From The Phantom Zone. Written by Bryan Edward Hill and with art by Jason Badower it gives fans a preview of Krypton Series 2 hitting US screens later this month. Straight off the bat, I adored Krypton Series 1. I loved each and every one of the actors featured and was thrilled with their character portrayals. Honestly I was taken aback and utterly captivated by Brainiac in Series 1. I couldn't believe how incredible he looked. Every scene this complex character featured in was utterly compelling. I could say this about a multitude of characters in Krypton which is why I've been extremely excited to see the second series ever since it was announced.
Not only will Krypton Series 2 see the return of characters such as Seg-El, played wonderfully by Cameron Cuffe and the iconic General Zod portrayed by industry legend Colin Salmon. But will also give a live action debut to Lobo played by Emmett J. Scanlan, who so far just looks incredible as the Czarnian Bounty Hunter, as if he were ripped straight from the comics.
I am eager to consume any and all content leading up to its release, so far I will say that the marketing has been exceptional. So I was beyond excited to learn of this digital comic. Ever since I have been a fan of genre TV and cinema I've loved the idea of companion material that adds to the mythology be it novels and certainly comics be it digital or in physical format.
Krypton – Tales from the Phantom Zone sees Seg-El trapped in the Phantom Zone. He bears witness to moments of dire significance that are set to come according to Brainiac, as the classic DC villain narrates throughout. The images that Seg witnesses feature General Zod, Lyta, Doomsday and most the highly anticipated Lobo. The final page solely focuses on Seg himself and a very omnipotent looking Brainiac. The dialogue delivered by Brainiac is cold, callous and is solely aimed at Seg, taunting and antagonizing the young man.
The artwork provided by Jason Badower is phenomenal. This highly talented artist has captured the likenesses of the characters perfectly. I would love a whole comic or even series by this creative team set within the world of Krypton. Krypton is something that we hardly get to see within the Superman mythos, so I am keen to learn and see more in any way that I can.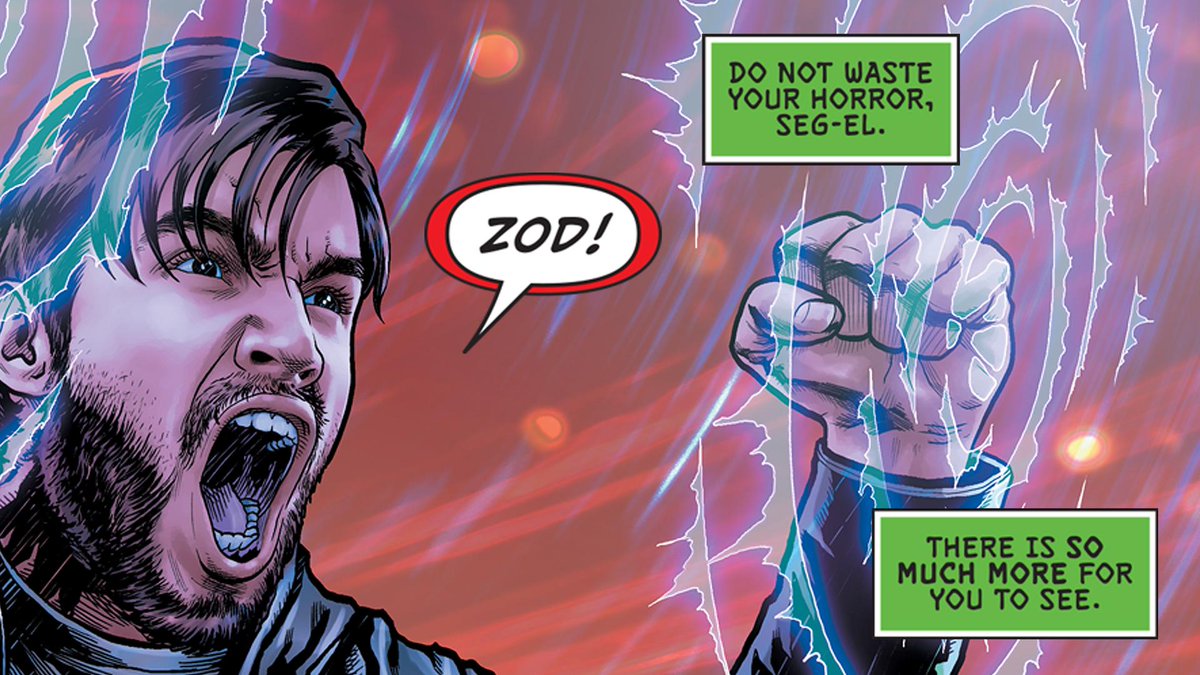 The tone of this comic is very intense featuring the worst circumstances, which not only effect Seg personally, but the world of Krypton as a whole – specifically its future. The reader gets a real sense of just how high the stakes are being raised as the comic really builds the anticipation for Series 2. My favourite image has to be that of General Zod. This is an iconic character and the artist has captured him in a very quintessential pose, which is part of a scenario with huge implications for the future of Krypton.
This 3-page comic is fantastic and has elevated my anticipation tenfold. This is very high quality content that I needed to see. I advise all fans of Krypton to consume this wonderful content. It only enhances the world of Krypton and I for one would love to see more of this companion material down the line especially by this creative team.
You can read Krypton: Tales From The Phantom Zone online here. Now who is ready for series 2? Well, you don't have long to wait – catch episode 1 on 12th June on SYFY.