Showmasters London Film & Comic Con 2019
Another year, another London Film & Comic Con! Last year, I left the house at 4am to make sure that I could get there in time, and pick up all of the autograph tickets for the people I wanted to meet!
This year, I was a little more prepared and stayed over in London the night before. I'll definitely be doing that again for future events, it just made the day less stressful, and I still got there with time to spare. Although there were plenty of great guests, this was the first time I had planned on actually not meeting anyone, and just enjoying my day – taking it as it comes. I even made up 'The Aspiring Kryptonian' pins and stickers to give out to readers and followers – they turned out amazing!
I went with my friend Ashley, who writes reviews for this site. He wanted to meet Ben Barnes (Billy Russo from The Punisher), so we headed up to the autograph section right from the start to get the autograph ticket. The previous year I had met Jason Momoa at LFCC, but I just missed out on getting him to sign my Justice League comic. I brought it with me just in case, so went to get an autograph ticket for him, just to see what number it was on. I was FULLY intending on NOT getting any autographs and limiting my spending. HA! Next joke…
Once we had those, it was time to hit the show floor! Like I said before, I was trying to limit my spending, I was mainly on the hunt for comics, but you never know what you find on the stalls there. I'll admit – Showmasters don't tend to focus much on the decor of the show floor, but this time they had a few extra details which were really nice. For example this Alita: Battle Angel graffiti wall.
After around two hours of looking around the stalls, it was time to get Ashley's autographs. The way the autographs work is complicated. So the show opens, everyone rushes for an autograph ticket (unless you have a diamond pass which are really expensive). That ticket has a number on it, then you have to keep checking back at the desk to see what number they are signing up to. It's all a bit of a nightmare to be honest, but it is what it is!
Ben Barnes wasn't quite ready for us yet, so we went to check Jason Momoa's desk. Now bear in mind, last year I had number 98, and he got to 50 so I missed out. The reason being, that the diamond passes get priority! This year my number was 126, so I didn't think I stood a chance. That was until I got to the desk.. he was signing up to 150! Although I said I wouldn't spend my money, I had to make a decision on the spot before it was too late. Of course, that decision was YES!
Luckily I had brought the same comic that I wanted to get signed last year just in case. This year, I was successful and I was SO SO happy! Now that's two of the six Justice League members that have signed my comic! It's beautiful, and I just hope that I can get the rest of them to sign it.
Then we headed over to join the queue for Ben Barnes, we waited for around 20 minutes or so, but it was completely worth the wait. Although I wasn't getting the autograph, I'm a huge fan of Ben – ever since Narnia, so I waited with Ashley so I could go and meet him too. As we were waiting, he really took his time with each and every single person that went to see him, and that was so nice to see!
When we got to him, we talked about what it was like working on The Punisher, and what kinds of roles he wanted for the future. This lead to us asking what he thought about the fan-casts of him as The Batman for Matt Reeve's upcoming film. He said he loved the idea and was completely up for it, he even asked his team to get a meeting set up. Sadly he was shot down before he had the chance and was told that they were "looking for a famous face". I completely disagree, I think he would make an incredible Batman.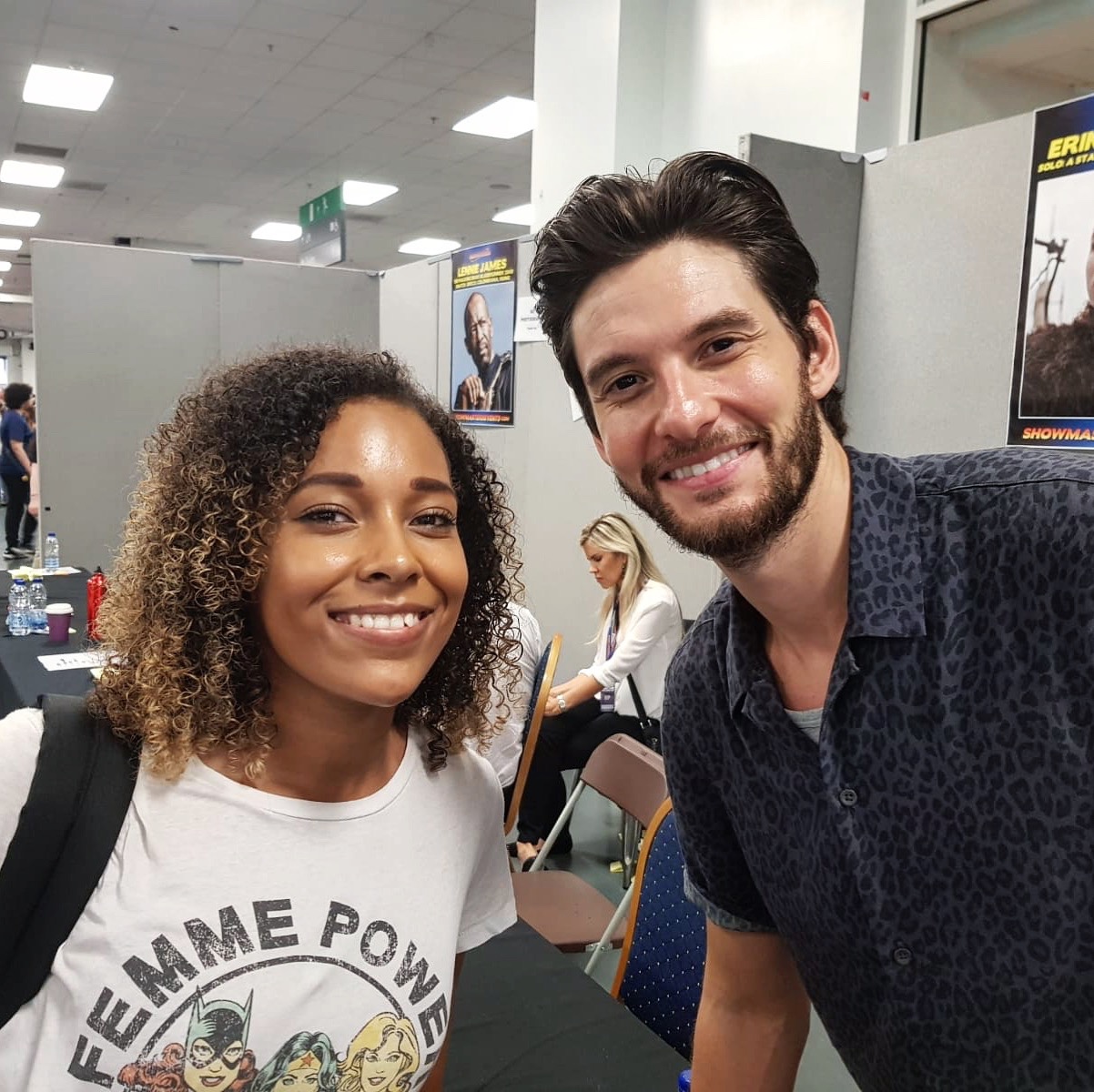 Once all of that was out of the way, we headed back downstairs to finish looking at the stalls. I bought a few things there, which I'll share at the end. Before the show, I set a challenge for people who followed me on social media. We had put together prize packs including a Superman comic book, a badge pin, and a sticker. We gave those out to people who said the magic word – Mxyzptlk! We had a grand total of TWO winners – hopefully we will have more next year! But it was so nice to meet people who had been reading the blog, and following my journey.
The amazing @aspiringkrypto gave me one of her pins when I met her at #LFCC. I've got some from @thegeekofsteel already. Hey @kiblaahmedart, I need yours to complete my personal Trinity pins collection 💪🏻 pic.twitter.com/RzccQZ9YET

— last_daughter_of_Krypton 🇮🇹 (@La_Maua) July 31, 2019
In the end, because we had made so many prize packs, we gave them away to anyone wearing a Superman costume or a Superman tee. To be honest, I wasn't sure if people would even want them, but seeing their reaction was really incredible. It's crazy how such a small gesture can put a huge smile on someones face.
Next on the list of things to do was visit The Comic Zone. This is one of my favourite things about comic cons, you get to meet the comic creators you love and admire. I did my research on the comic guests and there were two that I wanted to meet in particular.
First up was Mike Collins, he is an incredible artist who worked on Superman in the late 90s. I dug out the few comics I had that he worked on ready for him to sign. The artwork he had on his booth was incredible, and he even had some original pieces. He tried to convince me to buy one, usually it wouldn't have been hard to but I had spent enough already. Although I do regret not owning the beautiful Superman pieces he had. Hey there's always next time!
Next was comic writer Rob Williams. He recently worked on Action Comics during the Oz Effect run as a guest writer. He was absolutely lovely, very talkative and you can just tell how passionate he was about the project and how happy he was to have worked on such an iconic book, and with such an iconic character.
He did let us in on an inside secret though (well, I didn't know this…). Regardless of the fact that he was writing the story for DC which led up to the reveal of who Oz actually was, they refused to tell him before hand! Unlucky for him, I also couldn't decide which covers to get signed, so I brought quite a few – Sorry Rob!
Now onto the Cosplay! There were so many great cosplayers, I always love seeing what character people choose to cosplay, and I love seeing their take on them. Take a look at the gallery:
Now for the goodies that I picked up! Yup, I know – considering I said I wasn't going to spend any money, I sure did pick up a fair few items. Ah the life of a collector.
London Film and Comic Con 2019 was an absolute BLAST! I will definitley be returning next year, and perhaps the winter one (depending on the guests)! Thank you for yet another great event Showmasters!
See you next year!