REVIEW: Young Justice #17
Young Justice #17 is here and coming to you after we just learned… that the book is apparently ending on Issue #20. The solicitation for #20 reads "Don't miss this final issue from the Eisner Award-nominated co-writers of Naomi!" So, I don't know if that means the book was cancelled, or if Bendis has other plans for the characters throughout his Wonder Comics imprint.
Personally this news hit me like a ton of bricks. Young Justice was the very first comic book I ever collected and holds a very special place in my heart. To have these characters back together again was a magnificent treat for me and I'm hoping that Bendis has enough pull to somehow keep them alive and relevant. Regardless, we will follow the teen of steel to whatever book/books he ends up in, so stay hopeful!
Now onto Issue #17, which takes place IMMEDIATELY (like 1 hour) after Action Comics #1021 and immediately BEFORE Action Comics #1022, so if you're following/collecting that series, this is a must read/own, as it bridges those two issues seamlessly.
The main cover had the YJ original series fan in me super excited, as John Timms and Gabe Eltaeb render the three founding members in their original costumes, mirrored by their current costumes. This perfectly illustrates just how much the characters have grown. As I said in my last review, Robin's new look is okay, but I like the new costumes for Superboy and Impulse, Impulse's especially, making him look a little older.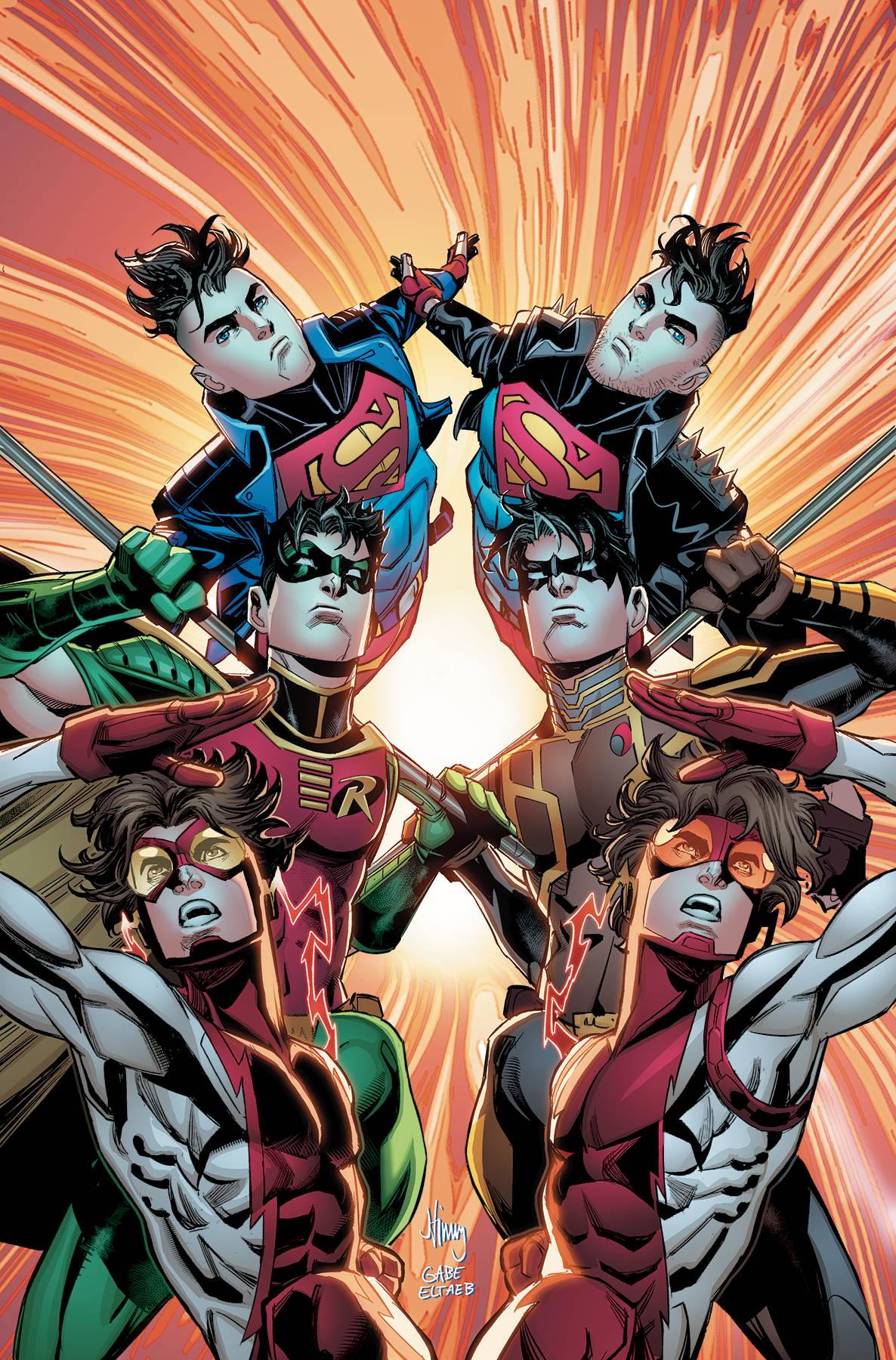 The variant cover is another fantastic team shot, this time by Mirka Andolfo, showing the team reveling against a gorgeous blue sky. This art style really has an anime feel to it for me, and it's great to see these characters being represented in a different art style.
The issue opens from the perspective of a new character, Yolanda Chan. She is the daughter of a food truck owner, who has pulled up along side Shuster Park in Metropolis to offer aid in the form of food to the heroes who are cleaning up after the Justice League's recent battle with The Legion of Doom. She's embarrassed to be there, thinking her dad is trying to take advantage of the situation to earn an extra buck. But her father continues to remind her that EVERYONE, no matter who they are or what they are can be a force for good by lending a helping hand. Which is the not so subtle moral backdrop of this issue and it's a great one. She is sent out among the cleaning heroes to deliver free bottled water, and from there we get to see our heroes reunite with their Justice League mentors and counterparts for a fun "let's catch our breath" issue.
Cassie reunites with Wonder Woman and talks about their shared family drama with the pantheon of Olympus. Wonder Woman also makes a comment which shows that she assumes Wondergirl is the team's leader. Wondergirl tries to object, but Wonder Woman just pushes through with her compliment. This is a nice call back to the original series, because near the end Wondergirl WAS elected as team leader.
Superboy talks with Robin about whether or not he should approach Superman as he is worried about how Superman might respond, since the Man Of Steel has lost all memory of Conner due to Flashpoint/Crisis shenanigans. (This is a plot thread that is being addressed in detail in current issues of Action Comics.) From what we've seen of Superman and Superboy so far in other books, it's the exact opposite of their relationship in the Young Justice TV show, in which Superman is very put off by the idea that a secret clone was made of him without his consent.
This issue is full of great dialogue, there are some hilarious back and forth dialogue between Tim, Conner and Bart (which I won't spoil here) but it's Bendis' snappy teenage dialogue at it's best. There's also some heartwarming moments between the three founders. Batman and Flash have conversations with Tim and Bart which ring very true to the characters which is a great touch!
Young Justice #17 ends with Superboy and Superman heading off to go be in Action Comics #1022, which just goes to show how intertwined these stories really are. Not only that but we see Yolanda truly learning her lesson about how anyone can help as she eventually becoming an intern at the Hall of Justice.
All in all, I loved Young Justice #17. It's a very good and necessary thing to let the characters and the story breathe and have some downtime between adventures. Something I think some mainstream books like Superman and Batman's titles tend to neglect. This lets us relax and get some good character development in. Something I'm sure that will serve these characters well going forward.
Haven't picked up Young Justice #17 yet? You can get the standard cover by John Timms here (UK), or here (US).