Steelworks #5, "Power Trip" has arrived and delves deeper into our villain's motivations to sabotage John Henry Irons and his plans for Metropolis. The action really heats up this issue as an attack on Steelworks causes a response from the entire Super family that even brings Lana out of retirement as Superwoman.  This penultimate chapter sets the stage for an epic finale.
The standard cover by Rafa Sandoval and Matt Herms teases the events that transpire inside. A huge mech version of Steel is on a rampage with Superwoman and Steel 2.0 trying to find cover amidst the flying debris. There's some great use of splashed colors and blurred edging that sells the feeling of this giant robotic armor either rising from or splashing down in the water. The scene may not play out exactly like this cover, but it definitely captures the essence of what is about to occur.
Diago Latorre's variant is a great visual of one of Steel's core concepts as a character. The notion of how technology impacts humanity and vice versa is a conundrum John Henry Irons has faced since his comic's debut. Using an old school 3-D effect of John's face as the background with a seemingly hand drawn Steel in motion on the foreground marries the concept perfectly. The line work adds so much motion to the piece it could easily pass as a lenticular treated cover.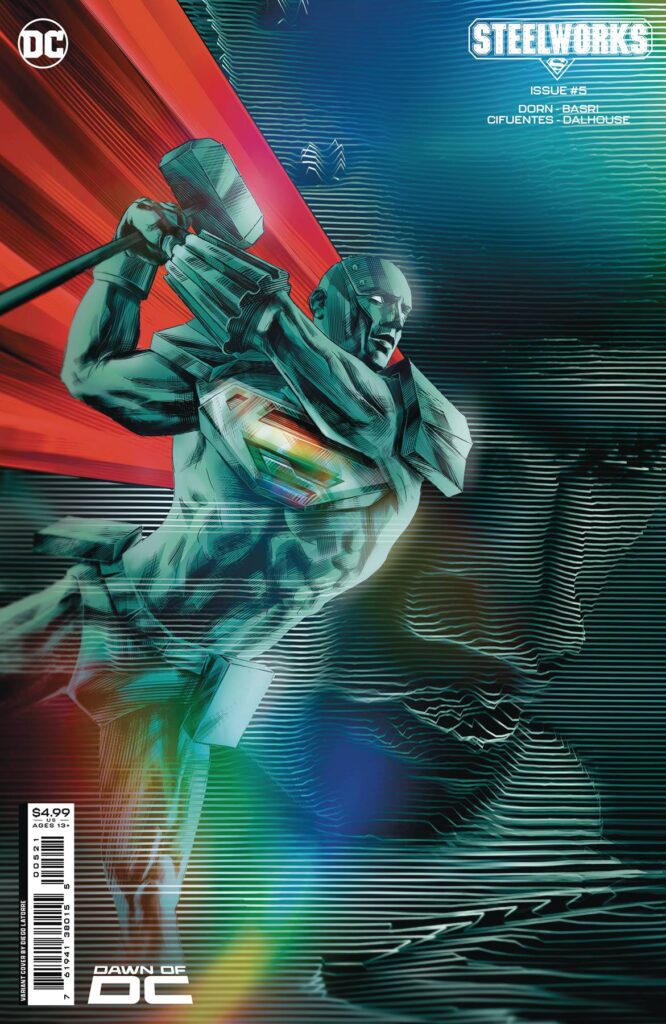 The variant by Alexander Lozano appears to be a great rendition of The Atomic Skull, or perhaps the cover debut of a different character altogether?  Perhaps it's the visual representation of John Herny's fears about the long-term consequences of being Steel?  Either way, the hues of purple on the otherwise gray scaled canvas creates a haunting and compelling image.  The realism of the art also adds to the horror inspired piece just in time for the Halloween season.
The interior art team of Sami Basri and Vicente Cifuentes, with colorist Andrew Dalhouse, do an outstanding job of slightly changing art styles to highlight flashback sequences of the two major villains of the story. Although there's a lot of exposition scenes, the art team keeps you captivated all the way through the action sequences at the end of the issue. The nuances to detail and timeline placement really make this book stand out visually. 

Michael Dorn, lettered by Rob Leigh, shows off his writing talents in Steelworks #5 by expertly navigating us through three different perspectives of the events leading up to issue #1. We're also presented with vastly different motivations for the villains involved, with one being completely power hungry and the other having a more sympathetic backstory. Charles Walker III begins this issue by piloting a mecha-style version of Steel's armor in an attempt to discredit John Henry's Steelworks endeavors. We quickly segue a few years earlier where the Amertek Industries connections are made between John Henry, Charles Walker III, and Shawn Kerry. 
Back in the present John Henry struggles with how being Steel is starting to feel like the easy option out of most situations. As most good heroes do, he questions whether or not he's doing the most good as a superhero or a scientist. Having been a mostly street-level hero after The Reign of the Supermen, John Henry has always been conflicted about his role in the greater Superhero community. It's great to see this kind of inner philosophical debate within his character as it's something that sets him apart from a lot of DCU heroes. Nevertheless, the action cranks into high gear as Walker's mech finds its way to Steelworks and the entire Super family engages. Using Genesis Energy to fuel his monstrous machine ends up benching the Kryptonians for fear of their powers fluctuating out of control, making this an obvious job for Steel!
There's lots to wrap up in next month's Steelworks finale as the Irons family continues to capture the Metropolis spotlight within this series.