FILM REVIEW: Justice League x RWBY: Super Heroes & Huntsmen, Part Two
'Justice League x RWBY, Super Heroes & Huntsmen, Part Two' continues the action packed crossover between the two teams as Kilgore and a rather evolved version of the Grim take over Earth. 'Justice League x RWBY: Super Heroes & Huntsmen, part two' is produced and directed by Kerry Shawcross, Dustin Matthews & Yssa Badiola and written by Meghan Fitzmartin.
As someone who really enjoyed the first part of this film franchise, it's safe to say that this instalment managed to top its predecessor. Part one didn't come out all that long ago, but the opening sequence to the second part gives a great overview of what happened, which means there is no requirement to re-watch the first film in preparation, and those that haven't seen it could even jump straight into the second one.
In this film, the Justice League awake to see news that the Grim have now taken over their world and in an attempt to save it, they have to team up with RWBY once again. The stakes are extremely high in this film and in turn it's not only the Justice League and Team RWBY that have to take on these monsters and this acts as a perfect opportunity for these characters to team up with some unexpected ones. There are some rather unexpected twists and turns throughout the film with several near fatalities, once being right at the start. It seems Kilgore isn't working alone as we also get to see the bigger picture of their plan to destroy the Justice League. That plan involves changing EVERYTHING that the Justice League and even RWBY know about the Grim as they are now able to evolve to handle each of the heroes' power sets.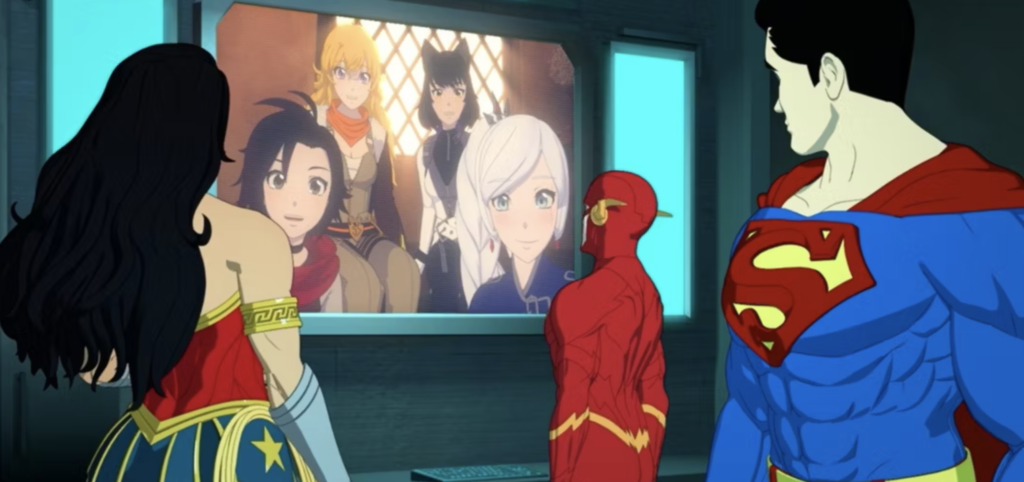 I loved the animation in the first part, but it seems to have taken yet another step forward in the second. What I loved is that with the designs and ideology of the Grim, there are aspects that reminded me of classic films like Jurassic Park and Godzilla, whether or not that was intentional, it was very welcomed. The action sequences are excellent throughout too and there are many badass moments for both the Justice League and also RWBY. The use of slow motion during some of the fight sequences really added a sense of awe to many of the scenes.
I thought there was a great transition between the two parts of 'Justice League x RWBY', in the first part the Justice League were much younger and in this part they are they usual ages, which means a brand new voice cast. Whilst it totally makes sense that their voices will have also changed and the voice cast are excellent in their roles, it does take some getting used to, specifically Superman (voiced by Travis Willingham), his voice is unusually deep for such a character.
That's not the only thing that has evolved, the same can be said for the character relationships, the dynamics have changed between them now that RWBY are now on their world and that acted as an exciting opportunity to introduce new elements to their characters in terms of suits and power sets. It really was a joy to see how the two extended teams worked together and this film gave great insight into these heroes' strengths and weaknesses.
'Justice League x RWBY: Super Heroes & Huntsmen, Part Two' is an excellent and vibrant follow on to the first part. It is filled with action and incredible character moments and I truly hope this isn't the last we get to see of this animated world.
'Justice League x RWBY: Super Heroes & Huntsmen, Part Two' is available on digital, Blu-Ray and DVD now. Here's the full trailer: