REVIEW: Batman/Superman: World's Finest #21
Batman/Superman: World's Finest #21 is here and it's a multiversal matchup as Batman and Superman face off their Earth-22 counterparts as well as David himself, who is no longer the Boy Thunder we once saw. The return to the world of Kingdom Come continues set during a time prior to the events, which means that it's not a sequel but also a prequel.
Dan Mora makes a cover that will sure be some fans' new phone background as he channels Alex Ross' designs for Superman and Batman of Earth-22 in this team battle –and all he has to say about it when he released it on social media is "I tried my best." Honestly, this series has really been nothing but his best. Even though Kingdom Come's World's Finest wears the costumes they do in the original story, they do not in the issue itself – again, set before it.
Bryan Hitch, co-creator of The Authority, adds the Kingdom Come Justice League to his superhero team portfolio with his variant cover. Nothing really establishes an alternate Earth like the costumes. The Kingdom Come Justice League has always been interesting because the costume differences are a little more subtle than in other Elseworlds. Hitch was a great artist in the Rebirth Justice League series and this variant is also reminiscent of that.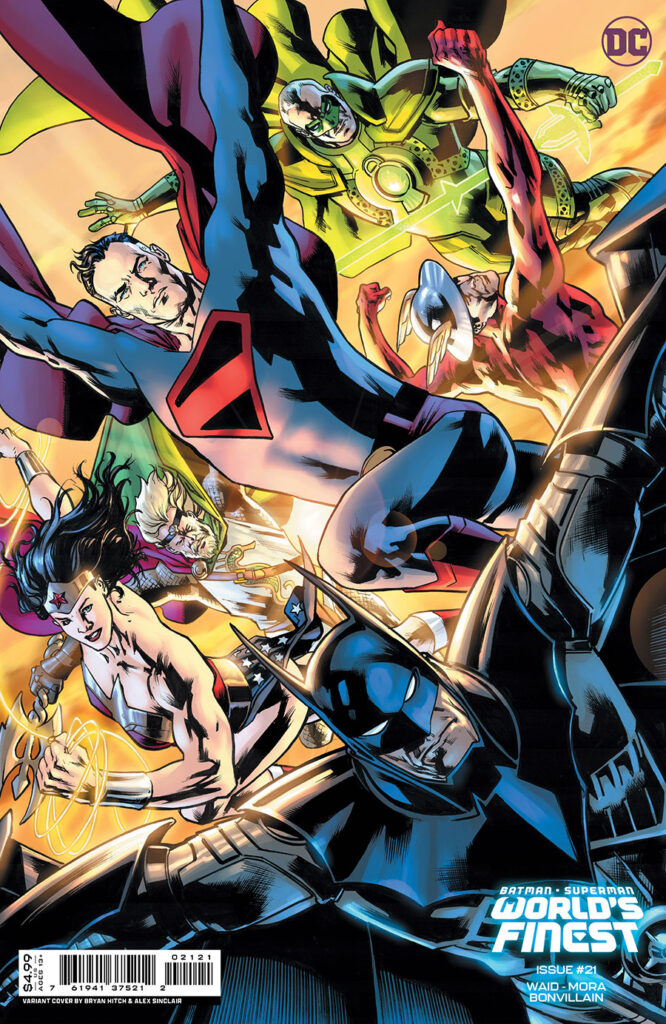 We may be seeing more of Crystal Kung's holiday variant in the DC Shop on some of the products in time for the season. Her holiday card variant is so charming with the dotted scissor line and where it's obviously meant to be folded. Cards do tend to flood the post offices when the holidays come around and this simple and stylized invokes that feeling when you get when you open one that just arrived.
Other great Kingdom Come-inspired variants are by Sanford Greene and Mirko Colak as well as a McFarlane Toys figure card cover.
Clark and Bruce have found David on Earth 22 years prior to the events of Kingdom Come after time skipping about the alternate Earth during their arrival via the cosmic treadmill. Unfortunately, David as Thunderman isn't too happy to see them as he blames them for not finding him sooner like they said they would. Superman fights his former sidekick only to be flanked by the Superman of Earth-22, now slightly older than him at this point in time but just as powerful. Meanwhile, Batman has to fight his cyber suit-enhanced double as well. The Earth-22 inhabitants plan to fight with everything they have given the fact that the multiverse is an unknown concept there.
This isn't an everyday match either. Clark and Bruce find out they will have to fight smart against these versions of them who are older and more experienced. The whole issue is the fight from start to finish with Superman and Batman's actions quite literally being doubled. David is no minor threat here either. Something has changed him since the last time we saw him. As it would turn out, that something may be one of the very catalysts to the events of Kingdom Come.
Mark Waid's Superman action scenes are some of the best to be put to panels and there is plenty of that in this issue. It's also interesting to see Superman and Batman of Earth-22 before they became jaded in Kingdom Come. The strategies that our Superman and Batman have to employ just to have a fighting chance against their doubles take a lot about their powers and abilities into account and make the struggle feel all the more real. Letters are done by Steve Wands.
Dan Mora and colourist Tamra Bonvillain makes the ground quake and ear-splitting onomatopoeias coming in this issue. It's simply some of the best comic action with Superman that we've seen this year. If a panel isn't a brief moment of regrouping, then it's someone throwing a punch or getting hit. Much like his art, it's all very crisp and the action really flows without skipping much like Silver Age comics.
It's only the second issue in this story arc and Batman and Superman feel like they have already faced their greatest challenges – themselves. But while they fight among themselves, there's a much bigger threat coming to Earth-22 as we know it, and David has been presented as the key to it.