Review: Art of The Brick DC Comics, London
Now, as you know I love my superheroes – of course especially Superman and DC Comics, so when I heard about this Art Of The Brick exhibition, I just knew I had to go. The fact that it's all made from LEGO too is also pretty damn cool!
The exhibition has been on for a while, but living in Worcester I didn't really get the chance to have free time in London, whenever I was there it was to work and we only had a few evenings free. But last week we were staying nearby so I took my hour lunch break to go and see it for myself, and I am so glad I did!
As I went on a week day, during school and working hours, I pretty much had the exhibition to myself! No-one was in the exhibition itself with me, I only saw a few people in the store at the end of the tour. Which was great! I could take pictures to my hearts content with no random people lurking in the background or getting in the way of my shots.
Now I know that I am biased – with Superman being my favourite – a LOT of my pictures are of him, I admit. So accept my apologies in advance….
As you first go inside you have the option of sitting through a short film on the artist, why they have done it, the work that has gone into and and also where they got their inspiration from for the designs and the scenes that are used in the exhibition. You then head through to the Classic DC Comics section, where they have LEGO figures of most of the DC Comics characters and also a few of the classic comic book covers enlarged and made out of LEGO.
​The Flash
Green Lantern's Lantern
Action Comics Issue 1
Superman
Then you see sculptures of how the most popular DC Characters have progressed. All of these show the character in a scene from a comic, TV show or movie, but the figure is all one colour and has their emblem in a different one. Simplistic, but sure makes an impact! So bold and colourful!
The Flash TV Show
Superman in the Fortress of Solitude
Then you head into the area called "The Fortress of Solitude" and guess who its all about…..
That's right! SUPERMAN! Here are a few shots I took in this area – my favourite area!
Man of Steel Scene
Krypto the SuperDog
​
Flying Scene
And again…
And again…
But I have to say that this is my favourite piece of the whole exhibition.
Then you head into the lands of the other DC Superheroes – focusing on The League, so you have Wonder Woman's Themyscira, Aquaman in Atlantis and so on.
And Gotham City.
In between all of these areas dedicated to the heroes there are random exhibits which have things like; Cyborg, The Flash, Green Lantern. Along with some abstract giant LEGO block sculptures and some other cool things!
You then go through the whole Good Vs Evil area, with amazing scenes from the heroes comics and movies, which then goes into the Villains area. Which is AMAZING too!
Bizarro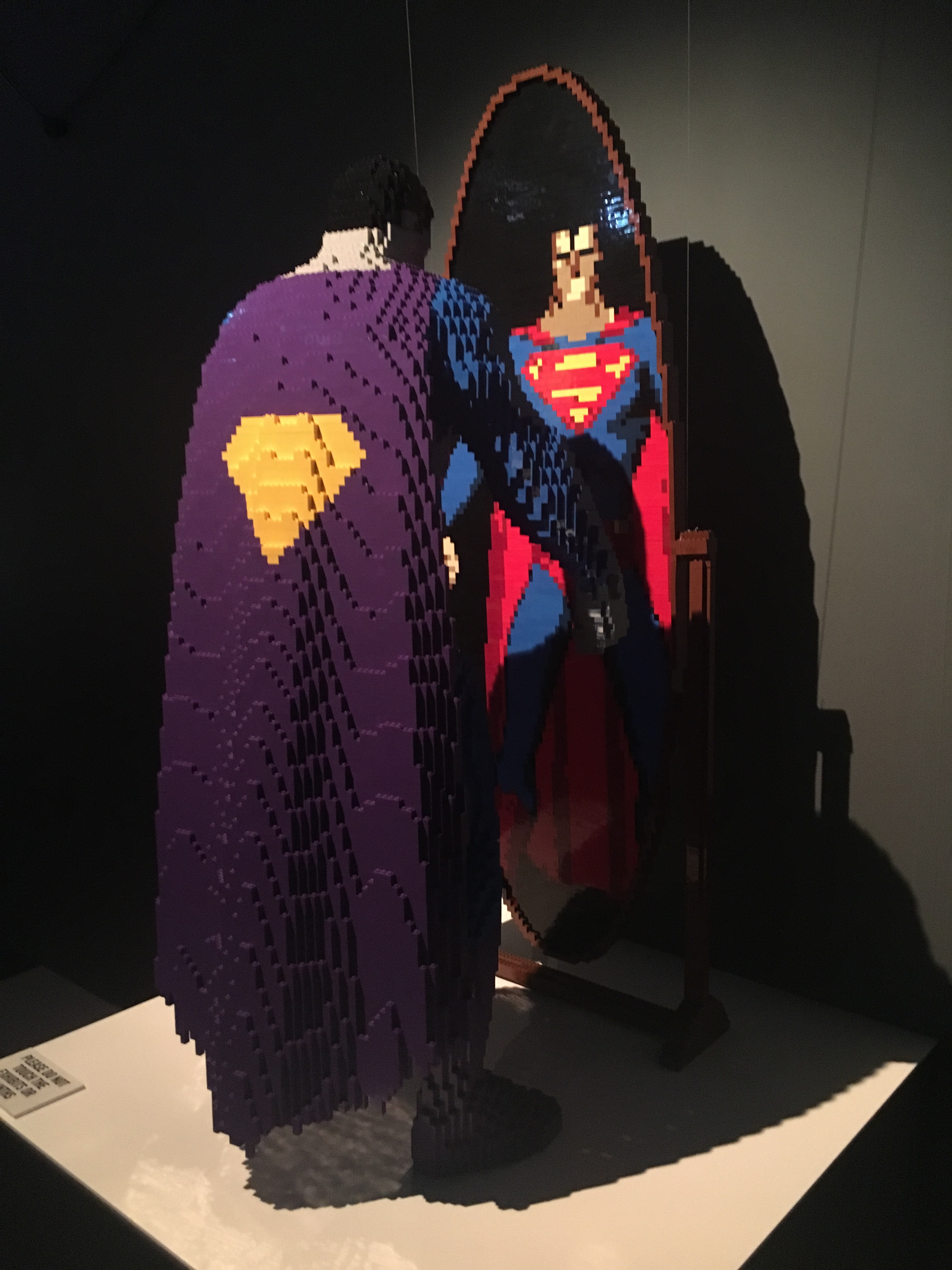 You also see a large series of skulls which are designed to look like those of the most popular villains – Deathstroke, Brainiac and so on. And of course you have larger and full LEGO Figures of Harley Quinn and Gotham's Catwoman.
Then you are led to the INCREDIBLE Classic Joker 
My second favourite piece of the exhibition.
Then you come across to the iconic section which has lots of iconic covers, and bust statues of The League
Superman
The Death of Superman Comic Cover
Then your onto Gotham City.
The Batsignal
Then the Bat Cave…
Last but not least is this INCREDIBLE almost life-size Batmobile – another of my favourite pieces. The detailing on this is incredible, if you head around the back you there are flames from the exhaust and everything!!
The Art of The Brick DC Comics exhibition is on for a limited time only – finishing on Sunday 3rd September 2017 in South Bank, London. For more details see the official website: http://www.aotbdc.co.uk/ 
Tickets cost £16.50 per adult and you can also get family bundles and discounts. However…. Groupon are currently doing an offer where you can tickets for £10.00 per person, bargain!
It is well and truly amazing! Definately worth going to see this in real life. The pictures do not do it Justice (League). All of the pictures that I took are my personal highlights of The Art Of The Brick DC exhibition, but of course you will all have you own favourite hero and your highlights are likely to be different, which is why I really recommend seeing it for yourself! So thank you to Nathan Sawaya for creating this immense exhibition and bringing all our favourite, iconic characters to life!
For more DC Comics goodness, check out my tour of their offices in Burbank, LA here!