Action Comics #1000 – Variant Covers Released
DC Comics have recently revealed 9 covers in total for Action Comics #1000, which will include 1 standard cover by Jim Lee, which shows the return of Superman's classic red trunks and 8 variant covers. The variants will represent and celebrate the 80 year run of Action Comics featuring decade themed covers to represent the many era's of The Man of Steel.
This milestone marks 1000 issues of Action Comics and will feature several stories. One by Brian Michael Bendis, who has recently been appointed to the Superman comics and a story by Geoff Johns – DC's Chief Creative Officer and Richard Donner – the Director of the original Superman: The Movie starring Christopher Reeve, now that I can't wait to read!
Firstly, the 1930's cover by Steve Rude – I am a huge fan of Rude's work, especially his rough sketches which are incredible. He has worked on several issues of Superman comics, including The Incredible Hulk Vs Superman and The Adventures of Superman Issue 17.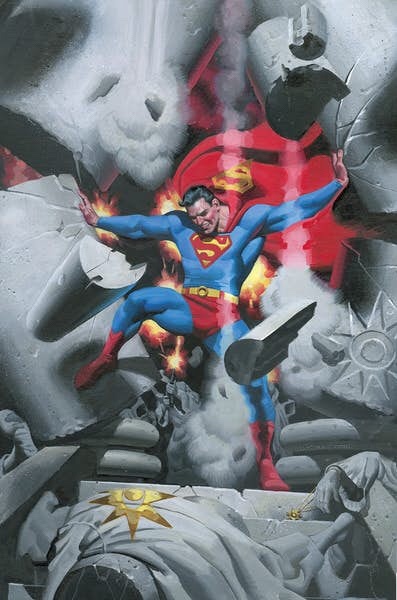 Secondly, the 1940's variant by Michael Cho – I feel this cover perfectly captures the era that it is based on. Cho has worked on the cover of many Golden Age comics, including Justice League of America, Superman and Supergirl.
Next, the 1950's cover by Dave Gibbons – Gibbons is a renowned writer for Green Lantern and also cover artist for Superman: The Man of Tomorrow and Watchmen. What a great cover this is.
The 1960's cover by Michael Allred – Allred is mostly known for his art for Marvel Comics, but I think we can all agree that his work is spectacular. This cover really captures my love for the 60's comics, these are the ones I try to collect the most of. It's fantastic, and in all honesty, I think this is my favourite cover of the variants.
The 1970's variant by Jim Steranko – Another incredible cover by a legendary artist!
The 1980's variant will be by Joshua Middleton, however the artwork hasn't yet been released. I'm sure we can expect something fantastic if his previous work is anything to go by.
The 1990's cover by Dan Jurgens and Kevin Nowlan – A perfect representation of the 90's Superman and Lois Lane.
And finally, the 2000's variant by Lee Bermejo – This is my second favourite variant, I love the colours and artwork here. Bravo Bermejo!
All of these issues for Action Comics #1000 are out on 18th April 2018, and as a fellow comic book subscriber for all Action Comics and Superman comics both standard and variant covers, I can guarantee that this will be an expensive month for me!
A fan of Superman and/or DC Comics? Check out the exhibition taking London by storm here!