Superman Collection Update – 16.05.18
I've slightly altered the way that I'm going to do these Superman Collection update posts – no more comics, only merchandise shown. However, the comics that I have will soon follow as I will be doing reviews on each of them. There's no point in posting them twice right?
1 – Hot Wheels: Superman Vehicle – 1/6
I have a lot of these… I'm sorry. The artwork here is from the first ever issue of Superman Volume 1, even the car has a very retro theme. This is one of my favourite covers – EVER!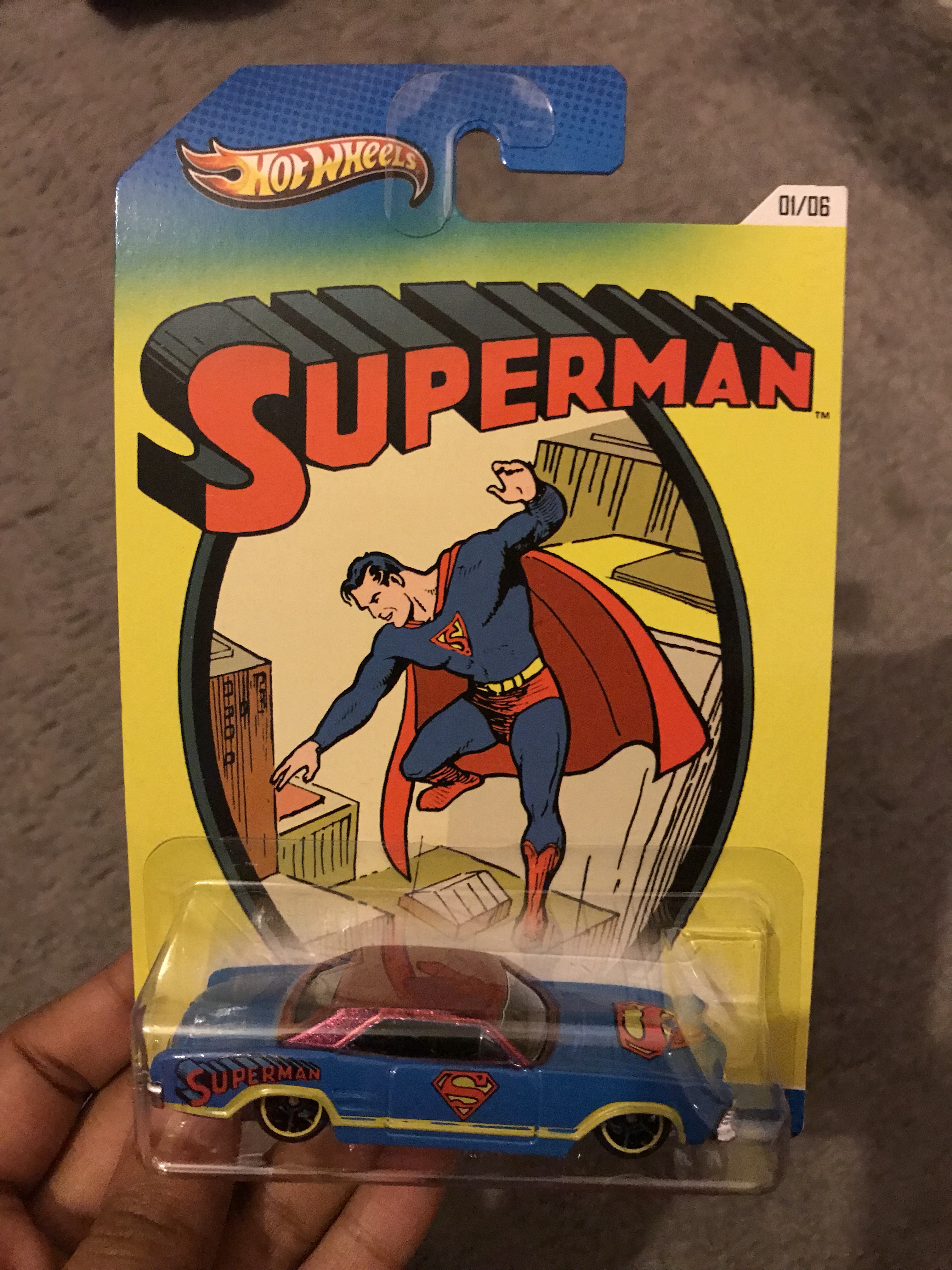 Hot Wheels Custom 2011 Camaro Superman Series 1: 64 Y2154 3/6
2 – Hot Wheels: Superman Vehicle – 6/6
The design of this one really reminds me of the batmobile!
Hot Wheels 2013 – Superman – Kroger Exclusive (6 Car Set)
3 – Superman Money Box
I have a few of these, they're from local markets but they are so sweet.
4 – Man of Steel Badge Pins
These are beautiful! The detail on them is incredible, I believe they are made my Noble Collections, judging by the box. Within the set you get the Kryptonian symbol of hope and the emblem of Jor-El. This is a great collectible to add to my collection.
5 – Superman Kryptonite Tin Container
Great artwork on the cover of this tin! I'd love to know what comic this is based from, anyone know?
Superman Kryptonite Rectangular Tin
6 – Superman Folding Stereo Headphones
This is the second pair of Superman headphones that I own, but I think these are my favourite!
Superman Vintage Over-Ear Headphones
7 – Justice League Action Superman Figurine
Based on the Justice League Cartoon, this figure in basic but great for collections. It has a few flexible parts, but not many.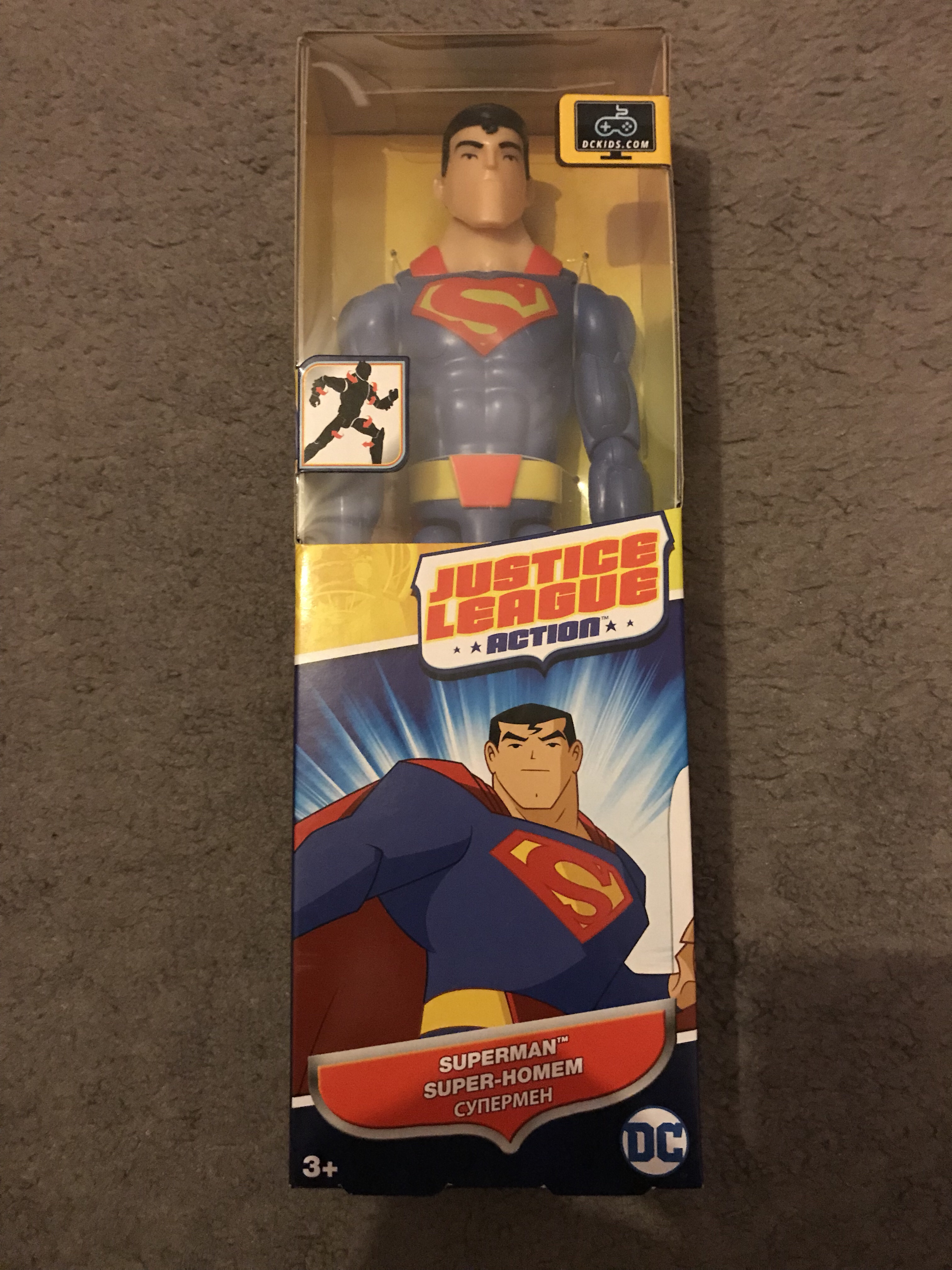 DC Comics Toy – Justice League Deluxe 12 Inch Deluxe Action Figure – Superman the Man of Steel
8 – Superman Shower Curtain
Now I need to get myself a shower… I love this, it's such a great idea! People usually like to sing the in the shower, but with this you can be your favourite hero!
Superman Telephone Box Shower Curtain
9 – Minimalist Superman The Movie Poster
My cousin got me this from a convention and I love it. So simple and minimalist, yet so, so effective. A lovely homage to Christopher Reeve, it will be framed and hung on my wall.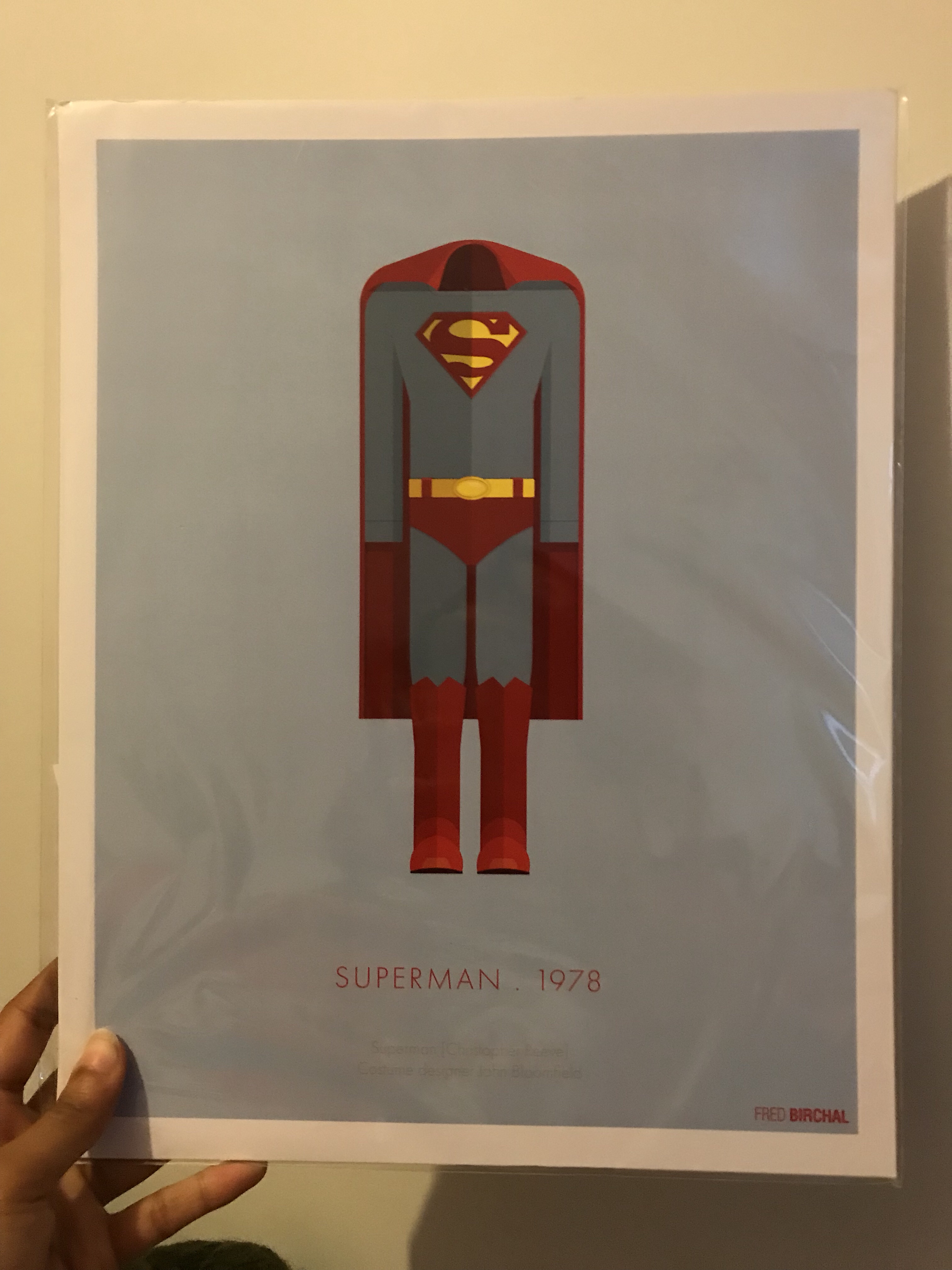 10 – Man of Steel Flight Speeders Toy Set
I have a few individual flight speeders that go with this set, but now I have the ultimate toy set! I picked this up from a car boot sale for £8.00, unopened!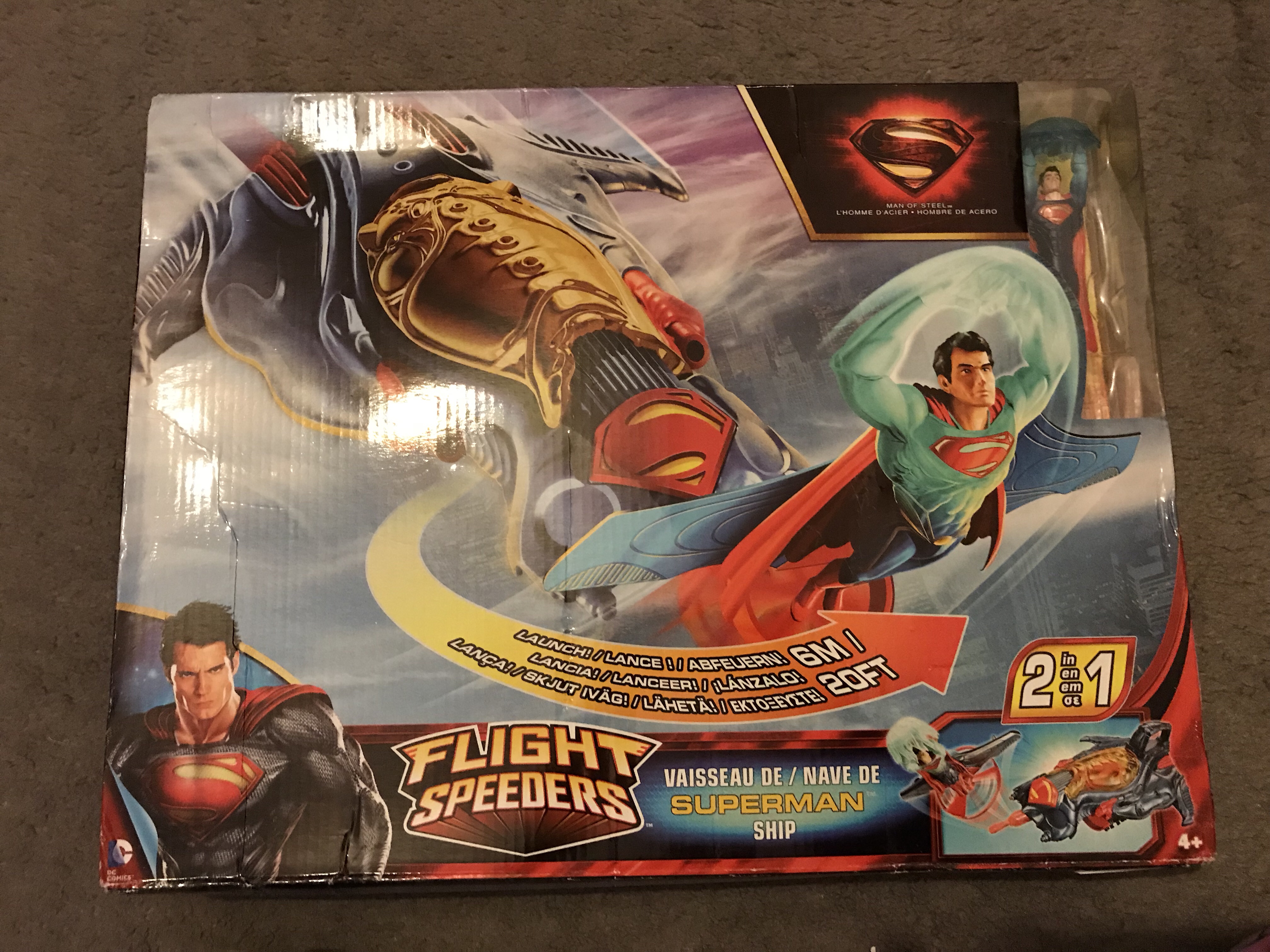 11 – Daily Planet Superman Cookie Jar
This is possibly the BEST cookie jar I have ever seen! This is so cool! Unfortunately it was second hand so it didn't come in a box, but it's still in great condition. Such a great idea to showcase the daily planet building icon.
12 – Superman Alarm Clock 
This is my third Superman alarm clock! But don't worry they are all different in some way or another.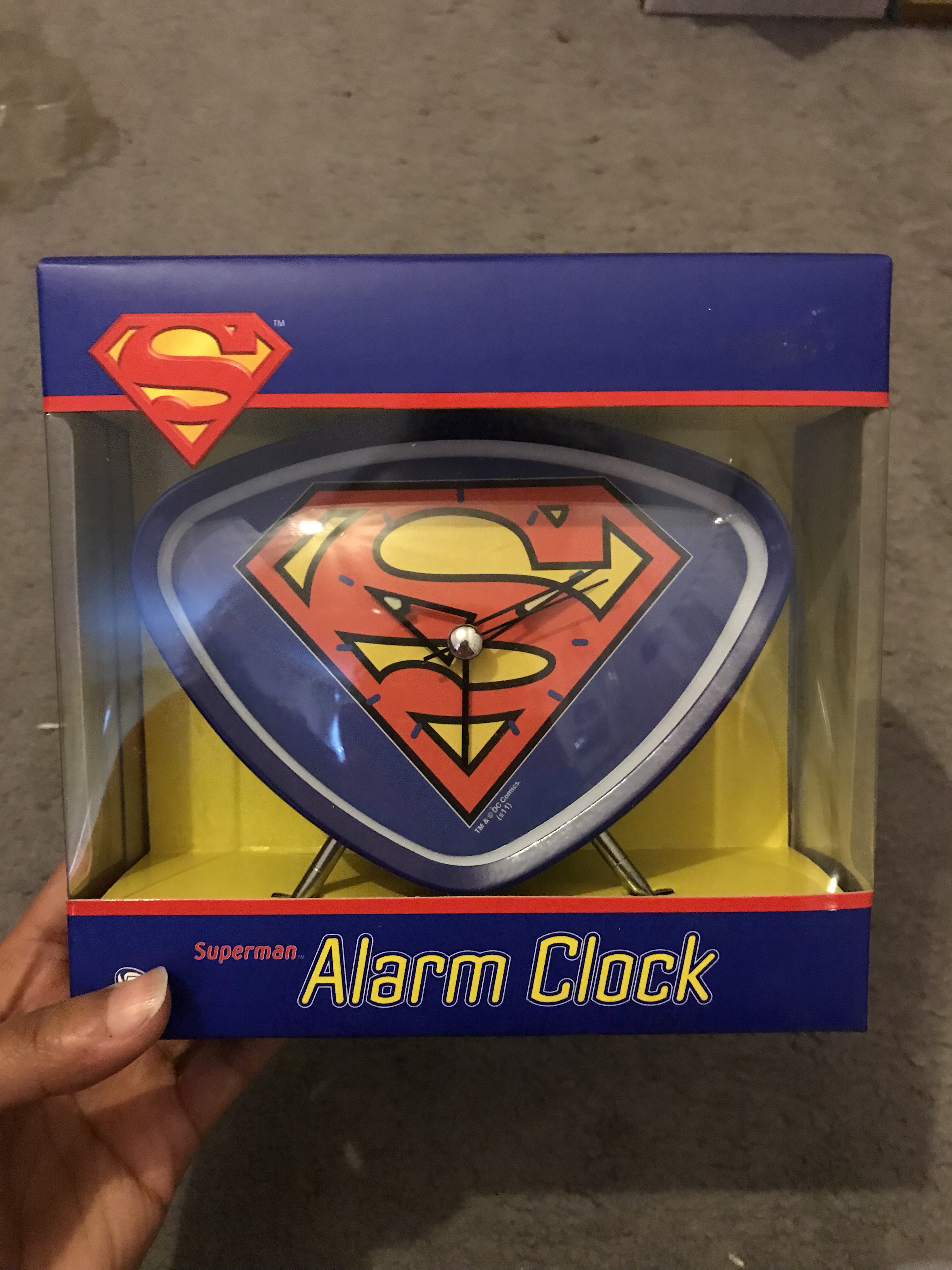 Get Yours Here: Superman Alarm Clock
13 – Funko Pop: Superman Metallic – Chase Limited Edition 
As you know, I'm a little addicted to Superman Funko Pop's! I've been trying to get this one for a good price for a long time… It's Metallic! I did get a bit too carried away when opening the boxes it came in, and slightly ripped part of the box, which is a huge shame!
Get Yours Here… DC Comics Pop! Heroes Superman Chase Metallic Variant Vinyl Figure by Pop! Heroes