Jimmy Olsen #11 is here, I have to say I'm really gutted that this series is coming to an end, and I really hope that the popularity this series has had prompts DC Comics to make Jimmy a more predominant character in comics.
First though, let's look at the covers. The standard cover is by interior artist Steve Lieber, with colours by Nathan Fairbairn. I have to say, it is one of the least wacky covers we have seen across the series, but that is not a bad thing at all. In reality it's actually one of my favourites, it's just so effective. The dark tones of the cover really allow Jimmy and his personality to shine and that's what I love most about it. The focus is all on Jimmy.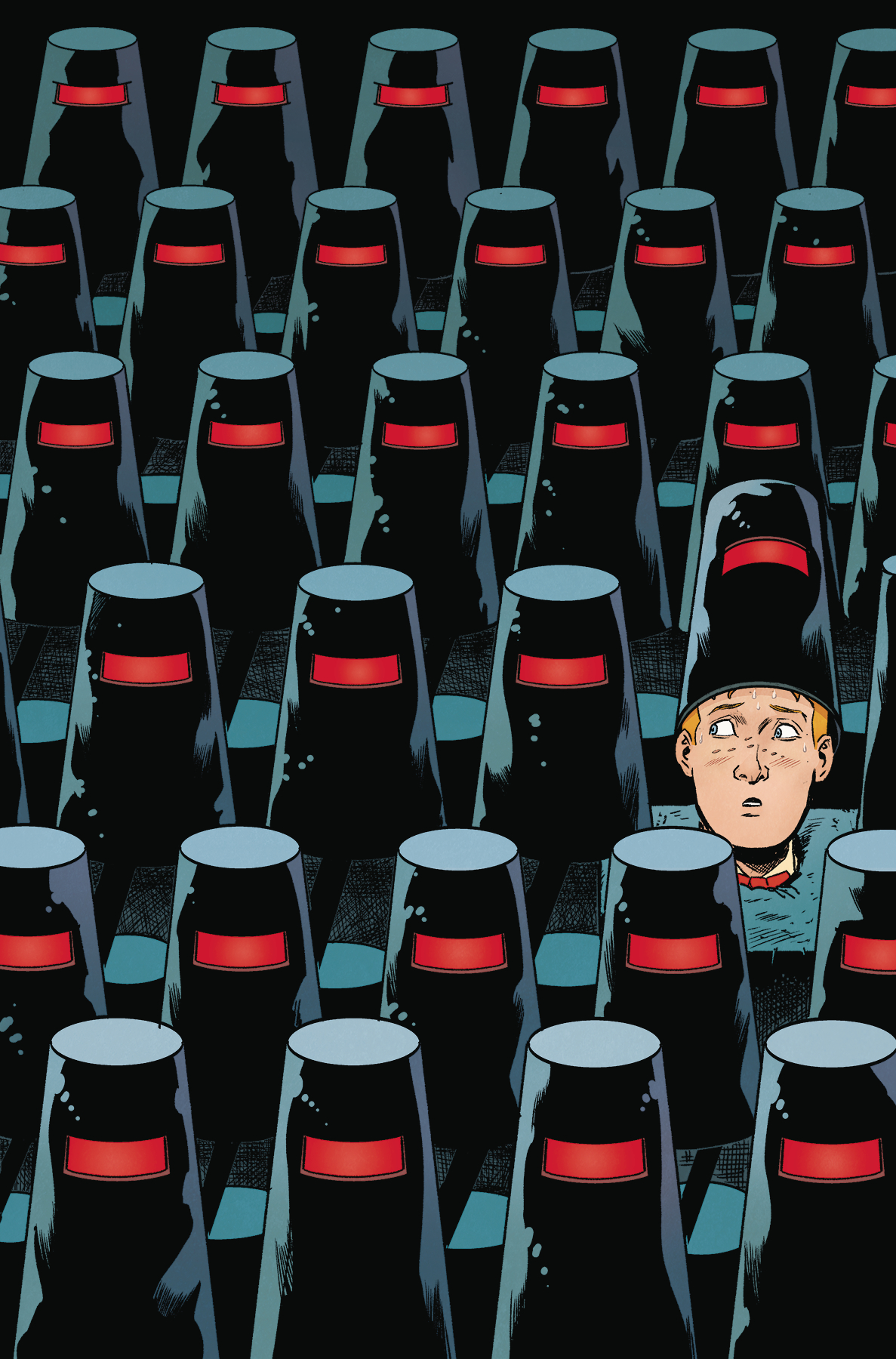 As for the variant cover by Ben Oliver, I love this. What I love the most about Oliver's artwork is the fact that it is so damn realistic. From the detail in every inch of the artwork to the slightly faded colour palette, each creative choice made really adds to the effect. This is exactly what I imagine Jimmy Olsen to look like in real life.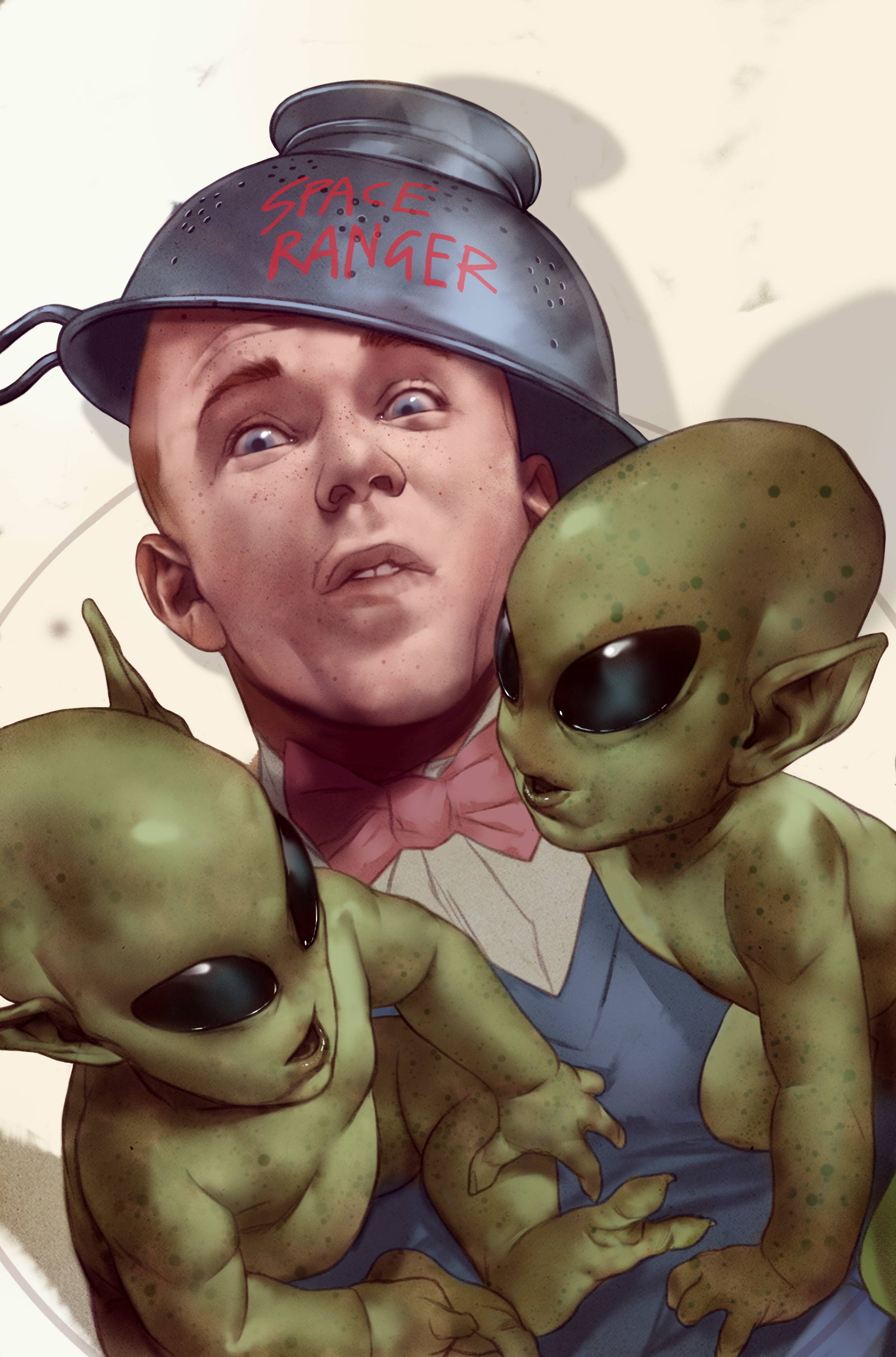 Well, it's safe to say that Jimmy Olsen #11 is just as wacky and bat s***t crazy as it's predecessors and I absolutely love that this series has been completely consistent in that sense.
Without giving too much away, several of the suspects highlighted throughout the series have come together, but as of yet we don't know why nor what they are up to. Whilst a majority of the questions are starting to be answered or are starting to come to light, this sequence just raises more questions for me, but part of me likes that. It shows that the mystery doesn't end here, and if you are anything like me, I don't want this series to end.
We then pan over to a completely fun and action packed sequence of Jimmy Olsen bringing his intergalactic friends to fight for Earth. I have to say this sequence is completely full of laughs, and I love how Matt Fraction has really allowed artist Steve Lieber to shine here.
Every time you look at the page you see or recognise a new character that you wouldn't expect to see team up with Jimmy, or something even crazier than the first thing you spotted. My personal favourite here is Dex-Starr, the cat that pukes blood everywhere (at least that's what I think it is). The artwork combined with colours by Nathan Fairbairn really make this whole sequence pop, it really gives it the life that it needs.
I have to say though, my favourite moment from the whole issue is the final pages. Jimmy's best friend is back on the case after being told to step away and let Jimmy take control. This really shows the depths of their friendship, Superman has trusted Jimmy to handle the situation, but when he's needed and overhears something that may help in the investigation he is unquestionably there for his best friend. I really hope we get to see more Superman and Jimmy interactions in the final issue.
What I love most about Matt Fractions' writing methods in this series is how well he has brought even the slightest detail into one completely understandable story. This is mostly to do with the way that this series has been presented – in around 3-4 different stories per issue that usually follow different characters within different locations. Normally reading something as complex sounding as this would completely confuse me, but that has never been the case with this series, and you can really see the benefit of Fractions writing methods in the final issues of the series.
As for the artwork, I have to say Steve Lieber and Nathan Fairbairn work perfectly together, they each compliment the others work exceptionally. I hope we get to see the pair work together in the future. The complete wackiness of this issue and series has really allowed Lieber's artwork to shine. For me I NEED to see him do more work on Superman, occasionally we have seen Superman pop up in this series, and I love how Lieber draws him. He's full of personality and with Lieber's Superman we see him doing things that we aren't used to seeing, the simple things in life and I adore that.
Superman's Pal Jimmy Olsen #11 is a really quick yet fun read, as I mentioned before it is completely wacky but that really is what I love about this series. You never know what to expect nor what is around the corner for these characters. I cannot wait to see these ends tied in the final issue.
Haven't picked up your issue of Superman's Pal Jimmy Olsen #11 yet? You can pick up the standard cover by Steve Lieber here (UK), or here (US).