REVIEW: Man Of Tomorrow #15
Man Of Tomorrow #15 is here and my god what a series it has been! Each and every issue and creative team on this series has been phenomenal and I cannot wait to own a physical copy of this series. As well that I would really love to see these individuals work with these characters in the future.
Before we get into this fantastic finale, let's take a look at the cover by Paul Pelletier. Just like it's predecessor this is a phenomenal action shot. Superman looks triumphant and confident against the one and only Metallo. The artwork combined with colours by Adriano Lucas really do make the cover pop. I love seeing these two work together, they compliment each other perfectly and as I have said before I hope we get to see them working on these characters together again.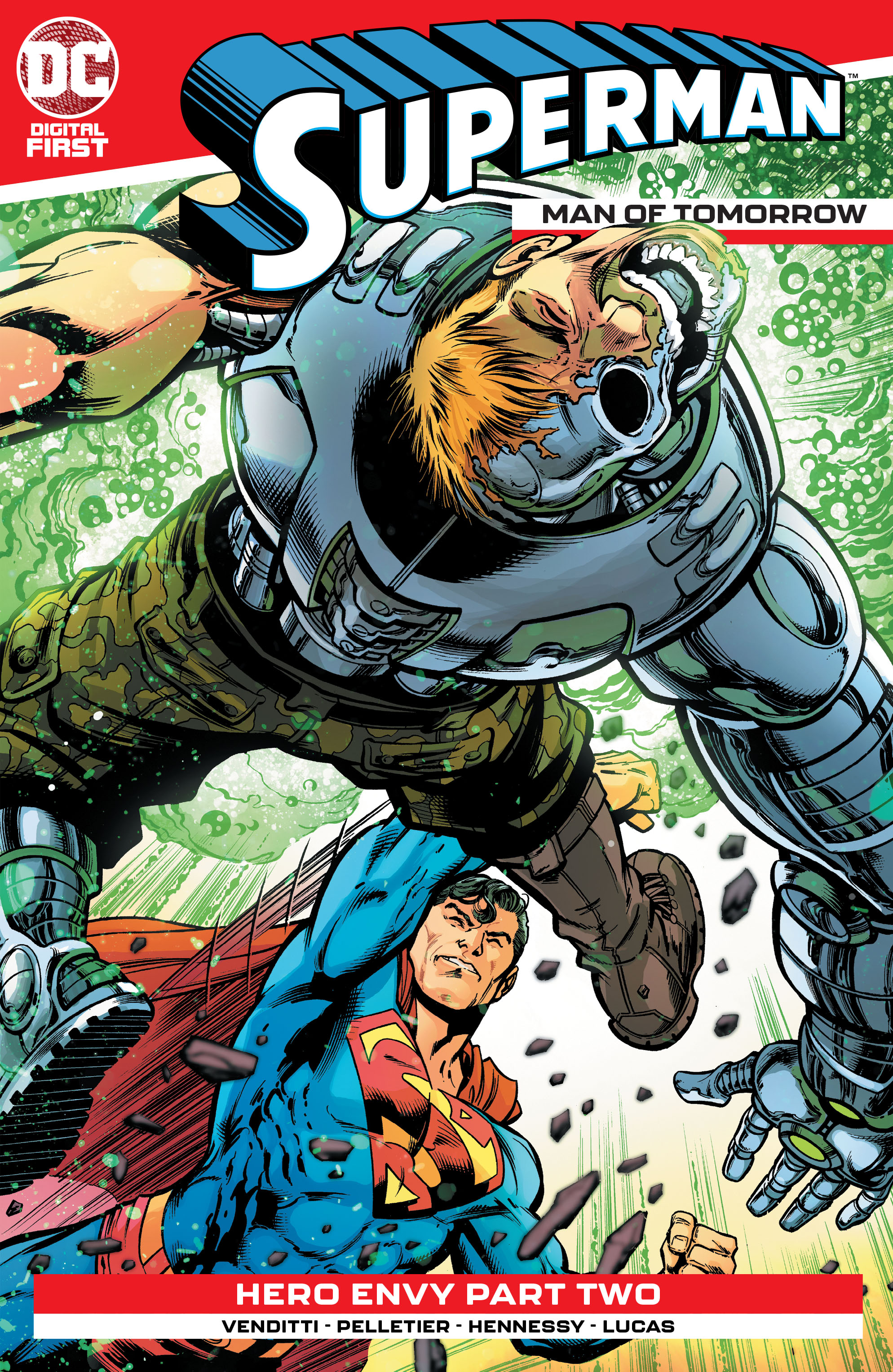 This issue continues exactly where the previous issue left off, with Superman seeking help from Parasite to take down Metallo. I love this sequence, at first Parasite is extremely angry with Superman for putting him there in the first place, but he soon realises that he can actually do good. I really loved seeing Superman team up with Parasite, it really does tie the whole story-line of this series together, as Superman took down Parasite in the early issues of it.
But this whole sequence really gives us a taste of yet another one of Superman's best traits – forgiveness. He really does believe that there is good in everyone, and that everyone deserves a second chance otherwise they will never have the opportunity to do good. I personally really loved how writer Robert Venditti portrayed that in this final issue, through Superman narrating the fight and struggles between him, Metallo and Parasite. It was really well done.
In this issue we also get a glimpse of Lois Lane confronting her father and his actions. You can only imagine how difficult this situation is for Lois. Her father has essentially created a threat, a villain to take down her husband if the time ever came. Not only that, but this man was innocent, his life ruined by her father who is now threatening to kill him and anyone who gets in the way. You can see her anger within the facial expressions in the artwork by Paul Pelletier which is very well done. The same can be said for Superman who also confronts General Lane during the destruction.
Once again the artwork in this issue is incredible. I adore the use of blurring and focus changing, it really helps create an effective 3D effect, which isn't something you see a lot of in comics. I adore the way that Paul Pelletier draws Superman, he just looks spectacular. Whenever he is featured on a page or within a panel you are instantly drawn to the character despite what may be happening around him. This incredible artwork is complimented well with Adriano Lucas's colours which really add to the realism but also to the boldness of the artwork. The pair really have brought this story to life with their artwork.
I have to say I adore the final panel in this issue. Although Superman is our hero, Lois Lane is his hero and that is clearly shown with the writing of this series and the characters in particular. Venditti really does understand these characters, and each and every portrayal within the series has been second to none.
Robert Venditti has crafted yet another really fantastic issue and finale to an iconic series. As I've said before I really am sad to see this series go, and I cannot wait to purchase a physical copy of the series to add to my collection. If you haven't read this series yet and you are a Superman fan, what are you waiting for?
Haven't read this issue of Man Of Tomorrow #15 yet? You can read the issue online via the Read DC Website. Or if you prefer Comixology, you can read it here (UK), or here (US).