Superman #24 picks up directly on from where the previous issue left off with Superman and Dr Fate facing off against Xanadoth, The Lord Of Chaos inside The Tower of Fate.
Now, in my opinion this thrilling encounter should most certainly take centre stage on the main cover, however that's not quite the case. Now don't get me wrong, we are most certainly treated to a wonderful piece of art by the incomparable Ivan Reis. I just can't help but feel its a little misleading as it appears that Dr Fate and Superman are at loggerheads which in fact is the total opposite of what is truly occurring.
This small grievance however is totally overshadowed by Ivan Reis, Joe Prado and Alex Sinclair's incredible artwork as the realm of magic and mysticism is at the core. Superman is brought to bear like never before as he takes the brunt of Dr Fate's assault. Dr Fate looks like a legitimate force to be reckoned with as his sorcery reigns down, incapacitating The Man of Steel. Superman's face is etched in agony like never before. The veins protruding from our heroes neck only emphasizes the pain Superman is in. This cover truly does a great job of reiterating just how dangerous magic can be when turned against The Man of Steel.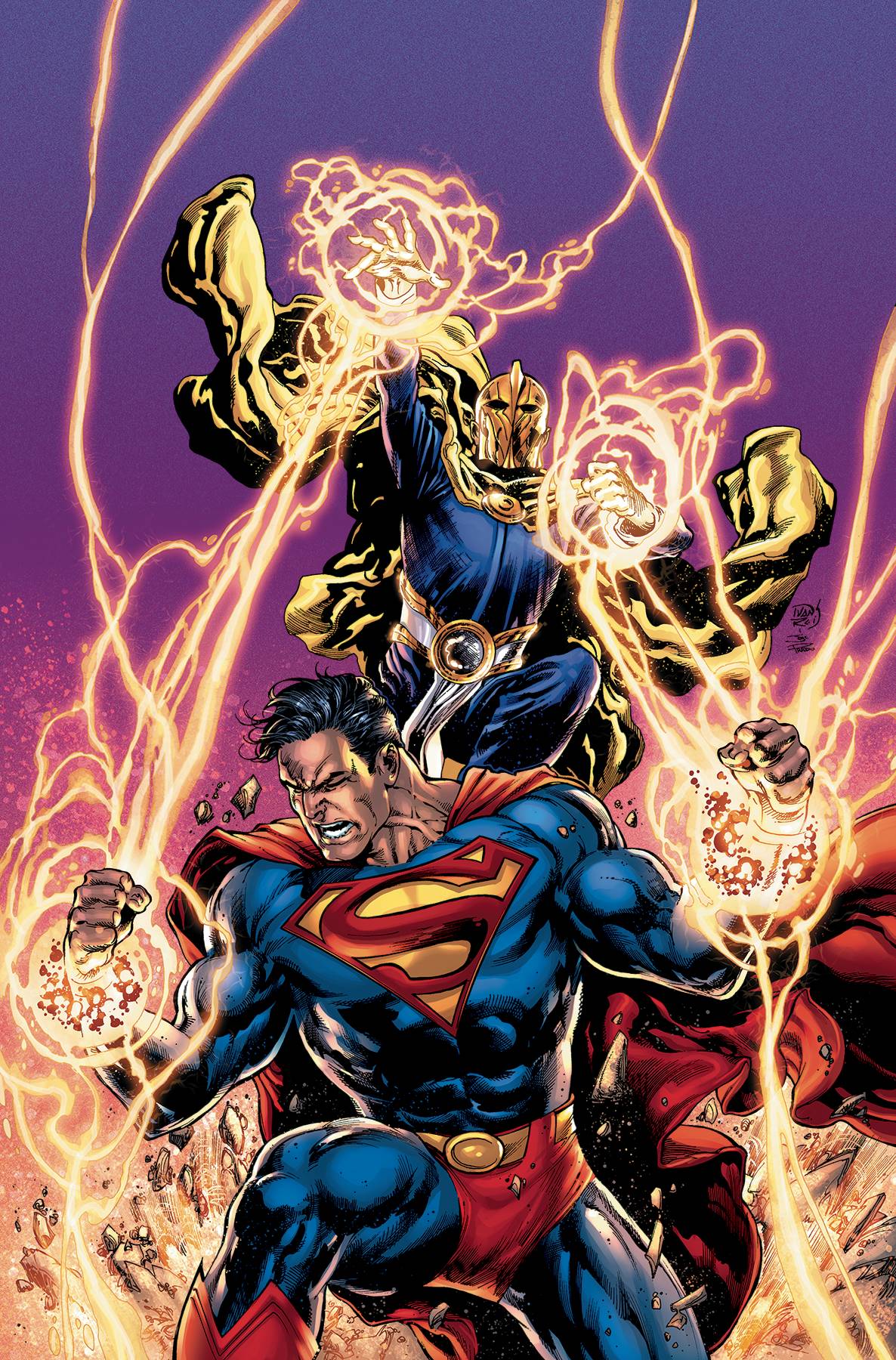 The variant cover for this issue is breathtaking as Superman looks to destroy a potential world ending event in the form of a meteor. The perspective of this piece is simply stunning. Bryan Hitch continues to push the barriers when creating city-scapes and the way our heroes interact within them.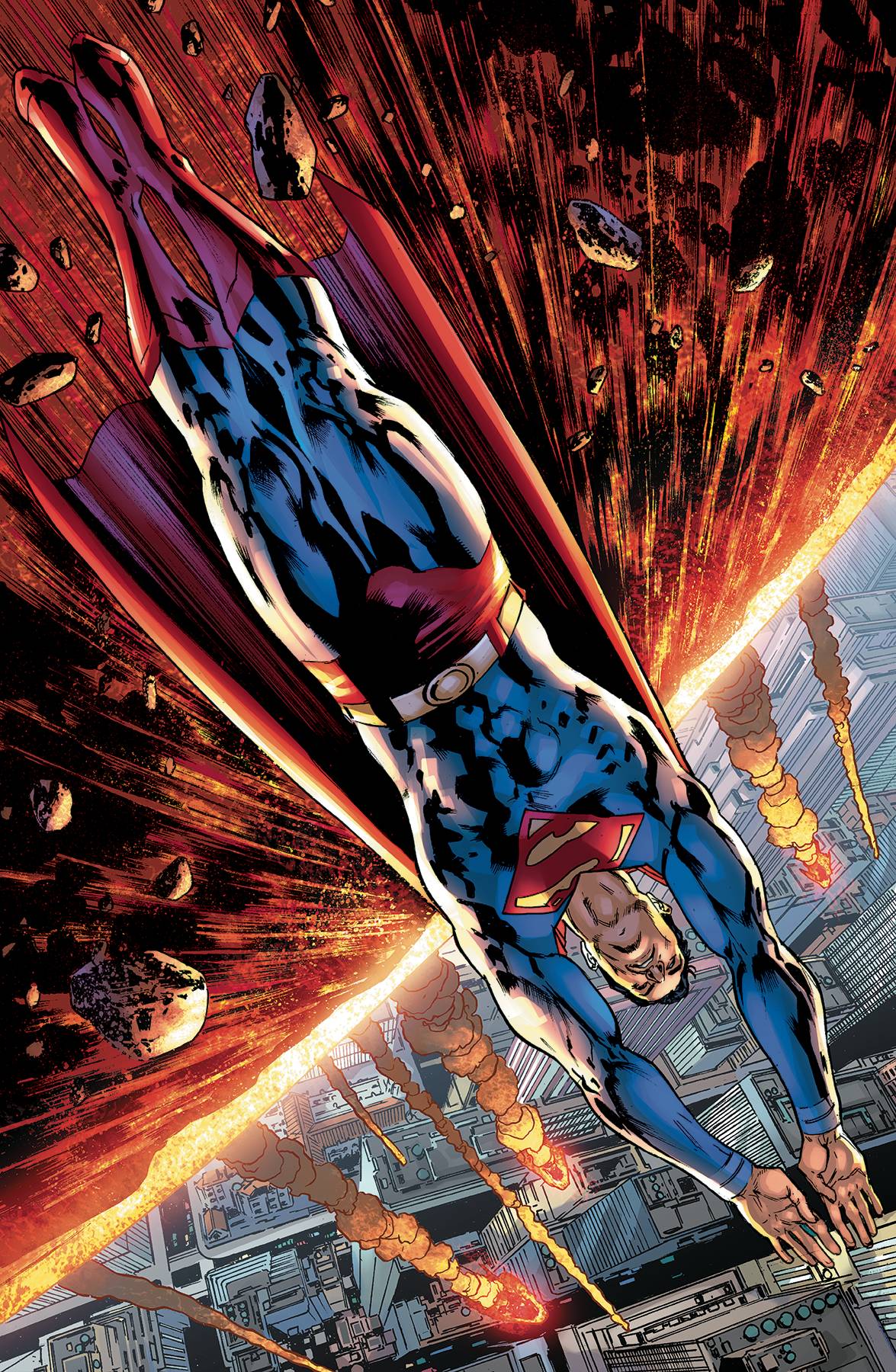 Superman #24 kicks off with a nice little reminder of how we arrived at our present destination. This coupled with information based on our beloved heroes origins made diving back into this current story arc very easy for me. I for one am not to familiar with Dr Fate and The Lords Of Chaos so any additional information gained along the way is gratefully received. Brian Michael Bendis certainly makes this a priority as the issue constantly provides very easy to consume exposition regarding a plethora of individuals. From Xanadoth and its ancient brethren to Veronica Bissette, DEO Agent and current vessel for the aforementioned Xanadoth.
Both these integral characters receive the spot light in the form of two gorgeous splash pages, which give the reader unencumbered access into the pairs respective background. Speaking of history be it recent or otherwise, I really enjoyed how this issue goes about honouring it. Straight off the bat I noticed 'Kirby Krackle' adorning the cover. This of course is a method created and made famous by industry legend Jack Kirby.
I was then thrilled to see the iconic 'DC Comics Presents' tag line featured on the title page. I very much appreciated this acknowledgement to an incredible team-up book which I thoroughly adored and still collect to this very day. DC Comics Presents was published from 1978 to 1986. This current team-up of Dr Fate and Superman would have made for a perfect issue of DC Comics Presents.
As the issue progresses we get some outstanding dialogue between Superman, Dr Fate and surprisingly The Helmet of Nabu which provides pivotal knowledge informing not only the reader, but Khalid Nassour who is still learning about his role. We continue to witness Superman in a very unfamiliar state as he continues to reel from months of upheaval. This is compounded by his now vulnerable state brought on by Xanadoth's dark magic.
Superman is perhaps in his most weakened state both mentally as well as physically by this issue. I can't recall seeing him in this shape in quite sometime. Its awe-inspiring to see The Man of Steel continue to fight on in the face of insurmountable odds. Seeing Superman rely on Dr Fate is a wonderful example of his belief and confidence in others.
As I eluded to earlier, this issue has a penchant for acknowledging the past and what away to do it. In one of my favourite sequences of the issue, The Helmet of Nabu finds its way temporarily into the hands of none other than The Man of Steel. This action brings about an amalgamation of sorts blending together Superman and Dr Fate. This really took me back to the 1990's and Amalgam Comics. As this feud is being fought in the realm of magic and mysticism the ensuing battle is fought like no other. Mastery over the mystic arts reigns supreme. Sorcery in its many incarnations light up The Tower of Fate like lightening on a stormy night.
Superman #24 is a visually stunning issue thanks to interior artists Kevin Maguire and John Timms' awe-inspiring artwork. Kevin Maguire and John Timms have created a plethora of gorgeous pages filled with exquisite artwork that captures the realm of magic and mysticism perfectly. A multitude of effects have been utilized expertly by this creative team to immerse our beloved heroes and villains in an almost alien environment. Colourist extraordinaire Alex Sinclair adds to this sense of alien wonderment by creating luminescent colour which is totally immersive for both the reader and our beloved characters alike.
Superman #24 was a fantastic read that perfectly builds up to the upcoming events which will feature in the 25th anniversary issue. It is clear the fight with Xanadoth is not yet over, and I am very excited to see where this villain takes us.
Haven't picked up your copy of Superman #24 yet? You can get the standard cover by Ivan Reis here (UK), or here (US).