Superman Returns To Earth In Warworld Apocalypse #1
With the Warworld Saga coming to a close and Kal-El Returns immediately following, there's plenty of excitement in store as we approach Action Comic's landmark issue #1050.  
Superman is set to return to Earth in Warworld Apocalypse #1 as DC Comics revealed what's in store for his future as we look towards Action #1050. 
Due to release August 30th, Superman: Warworld Apocalypse #1 is a one-shot that wraps up Phillip Kennedy Johnson's epic Warworld Saga currently being told in Action Comics. Featuring art by Brandon Peterson and Will Conrad, a final confrontation between Superman & The Authority and Mongul & The Unmade is promised. Phillip Kennedy Johnson was also quoted saying, "there are some frankly shocking moments in this issue, and some huge reveals that will have long-lasting repercussions in the DC Universe." The official synopsis mentions the rebirth of the Fourth World which makes me wonder if the use of Apocalypse in the the title is more than just a little intentional.
     
Along with this announcement, DC Comics also released the cover art and its variants. Steve Beach taps into '70's and '80's Sci-Fi movie posters for a fantastic image of Superman punching a planet. The art strongly invokes a Flash Gordon or John Carter: Warlord of Mars feel, especially with the title design. 
Mario "Fox" Foccillo's variant showcases the major players of The Warworld Saga montaged behind Superman in a cascade of lightning. A reckoning is upon us with Clark in the forefront. According to the official solicit, Mike Janin's variant is getting the foil treatment and features Superman and Mongul about to exchange blows. There's something very reminiscent of Superman's legendary fight with Doomsday in this image, which seems fitting considering the impact this story arc has had on the character. 
Not only that, but starting in September with Action #1047, we will also get a six part crossover with Tom Taylor's Superman: Son of Kal-El entitled Kal-El Returns.  

On their own, Phillip Kennedy Johnson and Tom Taylor have unquestionably been writing some of the best Superman stories we've seen in years and I can't imagine how brilliant this crossover will be as they collaborate together. PKJ plans on using Metallo for this arc stating, "What we did for Mongul with the Warworld Saga, we're doing for Metallo in Kal-El Returns…There's a really scary, complex, interesting version of him I've been wanting to show readers for a long time." 
The cover art and variants for Action #1047 were released as well. The standard cover is by Steve Beach and captures the story of Superman in one image.  Everything from Krypton exploding, landing near the Kent farm, meeting Jimmy and Lois, and collecting his rogues gallery, Superman is seen flying to meet whatever challenges await. Nathan Szedy pays homage to Lois & Clark: The New Adventures of Superman with his variant.  The now classic pose of Lois & Clark standing side-by-side while Clark changes into Superman is expertly portrayed. 
Lucio Parrillo's variant gives us a determined depiction of Superman about to fire his heat vision, Superman is poised to confront whatever he's facing off panel. The final variant is a tribute to Harley Quinn turning 30 by Leirix. Coach Harley is crouching on Superman's back, counting the reps of his one armed push-ups. Having some manga style influences gives the piece the proper whimsical nature befitting Harley Quinn.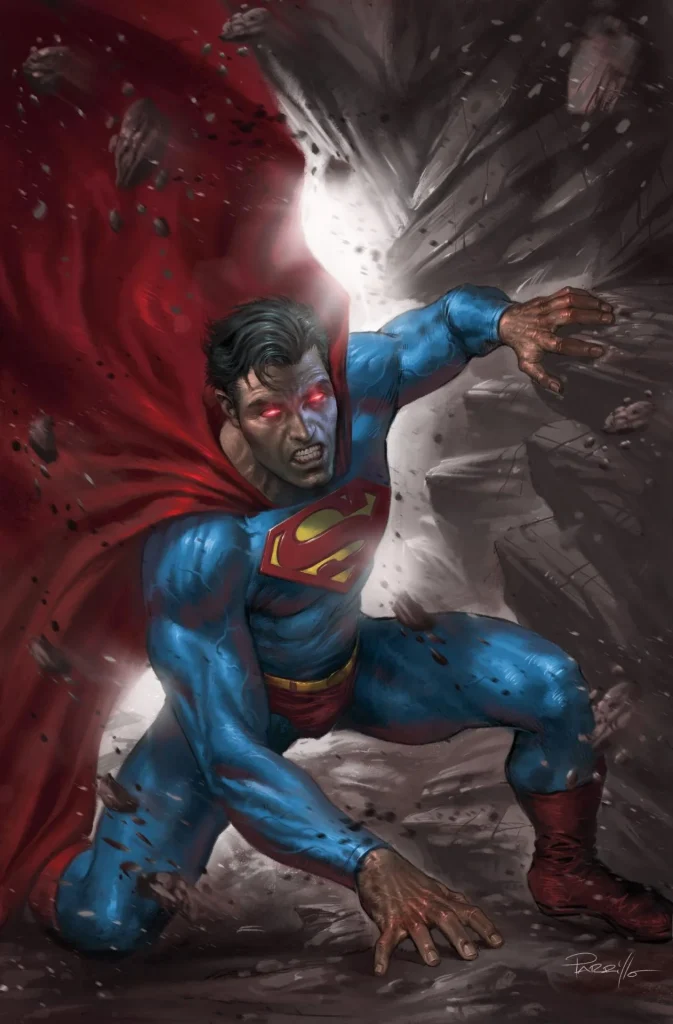 It looks as though Phillip Kennedy Johnson and Tom Taylor are nowhere close to ending their involvement with Superman and that's great news for everyone. With the Warworld Saga coming to a close and Kal-El Returns immediately following, there's plenty of excitement in store as we approach Action Comic's landmark issue #1050.