Figure Toys Company Release Two Limited Edition Black Suit Superman Figures
Figure Toys Company release two Superman figures. They bring us some of the coolest figures out there. Their unique and retro twist on figures is so nostalgic and it just looks awesome. From the packaging to the costumes of the figure, they really go into detail when it comes to their unique style.
They have brought us some iconic DC Superheroes in the past, including Superman figures which I already own. Now they are back with the SUPER themed figure, this time with an iconic black and white suit. There are two variants of this figure which are both 8 inches tall. The difference in the two figures? There are different heads available. Here is the standard version.
And here is the variant head. It's only a very slight change, but for collectors like myself, it means a lot!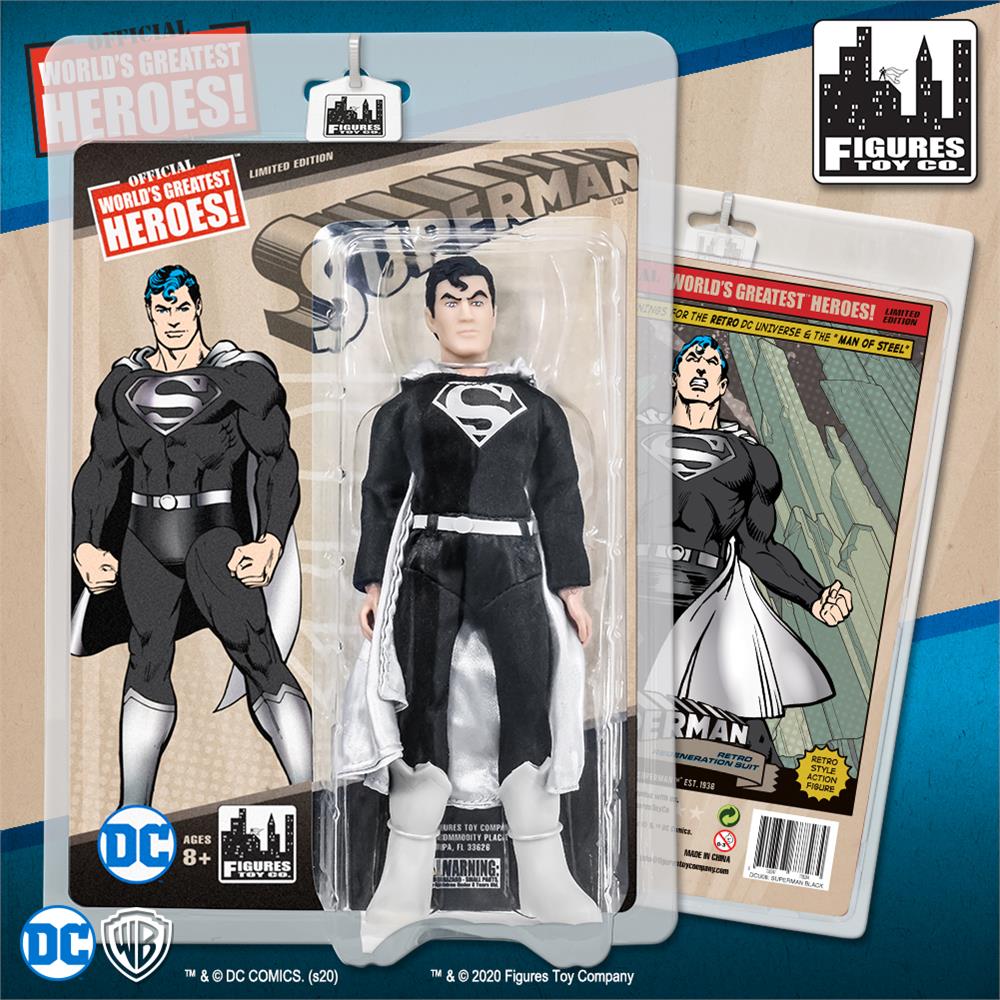 Here is the official write up by Figure Toys Company:
Includes an authentic cloth outfit and comes inside of a resealable plastic clamshell.
Don't let the outfit fool you…he's back in black! Figures Toy Company proves that you can't keep a good Man of Steel down. Get ready for the retro figure Resurrection of Superman, with inspiration pulled from the pages of the best selling "Death of Superman" story!

FTC is taking the events of the 1990's DC Universe and turning it into two different toys; there will be both an old school Superman and an updated Superman retro figure that will be resurrected! Each will be clad in the black costume that the Man of Steel wore upon his regeneration after being left for dead. It's a great look for a figure, and it's yet another FTC release that is sure to be a standout!
Like I said before, I love the design of these figures and one day hope to add all of their Superman themed ones to my collection. As you can guess, there's a fair few around! It has to be said, this is one of my favourites by them.
The Figure Toys Company Superman is priced at $29.99, and is available to order now! You can pick up your's here if you are based in the US. For us UK folk, we may have to wait a little longer. For more information please check their website.