New Zealand Mint Release Superman 1oz Silver Coin
New Zealand Mint have released a Superman 1oz Silver coin. NZ Mint have always provided fantastic products, especially when it comes to collectibles for us DC fans and collectors. Well, as part of their Justice League silver coin series, we now have a Superman one!
This 1oz silver coin acts as the fourth in the series and my god it is beautiful. I love these kinds of collectibles simply because of the quality, I have several coins and items from The Mint's around the world, and I have never been disappointed. Let's take a closer look at this SUPER coin: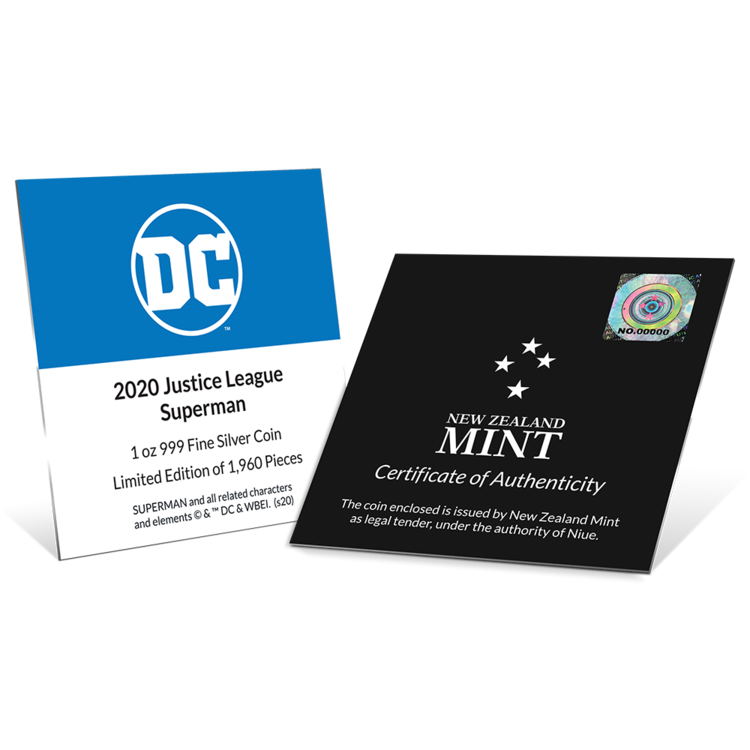 The coin is 1oz of 999 Fine Silver, and is sized at 40mm. Yes, it isn't the biggest coin in the world, but it certainly is a great piece. The coin is priced at $85 and is limited to 1960 pieces worldwide, so don't wait too long!
Here is the official statement from NZ Mint:
Faster than a speeding bullet, more powerful than a locomotive… The MAN OF STEEL™ fights a never-ending battle for truth, justice, and the American way. As an original member of the JUSTICE LEAGUE™, SUPERMAN™ forms part of our officially licensed 60th Anniversary silver coin series for 2020.

Though his powers make him god-like next to his human compatriots, Superman's story is not one of greed or conquest. The last survivor of the doomed planet Krypton, raised in the quiet heartland of Smallville, Kansas, Superman is as much a legend as he is a man: the gold standard of heroism, compassion and responsibility.

The design of this 1oz pure silver coin has the SUPERMAN logo almost leaping off the front along with a powerful image of The MAN OF STEEL himself. Completing this vintage comic design is a background engraving of SUPERMAN flying over METROPOLIS™. The Ian Rank-Broadley effigy of Her Majesty Queen Elizabeth II is on the obverse and confirms this unique collectible as a legal tender coin.
You can order the New Zealand Mint Superman coin directly from the NZ website here.