REVIEW: Superman & Lois S2 Ep 14: World's War Bizarre
Superman & Lois S2 Ep 14: Worlds War Bizarre was anything but with no invasions, disasters, or confrontations with the main villain. It feels like the title wrote a check that the episode wasn't able to cash if you were expecting anything like that.
Superman & Lois S2 Ep 14: Worlds War Bizarre is the epic battle between two worlds, or that's what the title of this past week's episode of Superman & Lois would have you believe.
What is described as a "Worlds War" feels nothing like such and is really more so of an isolated incident. At the same time, it's used as a rather clunky way to express the show's recurring theme of truth. The good news is Worlds War Bizarre is not a world-without-Superman story as the previous episode had me assume. We do see some great comic book action and character sequences, but the awkward handling of the events is too big of a blemish to shake. 
We last left Superman (Tyler Hoechlin) in a position we've all seen him in before across all his media, his power severely drained by an encounter with the Parasite – this time being Ally Alston (Rya Kihlstedt) who is now in the process of merging Earth Prime with the inverse Bizarro World. That is pretty much all she is doing in this episode –suspended in the subspace between worlds and merging them with the massive amount of power she stole from Superman. The changes aren't immediate, but the arrival of the red cube sun from Bizarro World is just the start. You would think that the whole world would respond to a strange new celestial body appearing before our planet, but it would seem that it only appears before Smallville with the general reaction to it. The focus for this part of the episode is on Lana (Emmanuelle Chriqui) as she must win public support and trust in a time when Superman isn't able to save the world. 
What is bizarre (no pun intended) about this whole endeavor and the first half of the episode is that some people don't have much of a crisis-level reaction to it. In fact, Lana actually has to convince them of what is really happening with the merging worlds and the fact that they have inverse selves living in the other world. It's kind of awkward seeing her trying to persuade the residents of Smallville that this isn't a harmless space anomaly like a passing comet or eclipse set to the now entirely crimson lens we are seeing it out of. Prior to this, Lois (Elizabeth Tulloch) and Chrissy (Sofia Hasmik) at the Smallville Gazette were told by Sam (Dylan Walsh) to not tell her about it at all – Lana is still new to being in the loop about Clark and Superman after all. Again, for what is a worldwide threat, it feels like a localized incident, especially with the lack of present danger. The theme of trust really would've worked here better than truth that the residents of Smallville would be hesitant to trust Lana while Superman is powerless, instead of them not believing that she is telling the truth about him being powerless. 
Despite this, we are treated to good character moments, fun comic book action, and a better application of the theme of truth. If you were ever a fan of the duality between Clark Kent and Superman, then this episode will be added to your lexicon. Superman is often defined by his powers and without them, who is he but frail Clark? Clark sure felt this way when he found out that it would be an uncertain amount of time before his powers would return when his solar cells recharge. But Lois is there to remind him that his true power comes from the hope he represents and how people look up to him. On the surface, it looks like Clark is just wearing the suit to the town hall meeting to appear big, but really, he's doing it for his friend who he has known before he even became Superman.
For good comic book-based action, you need good antagonists to keep our heroes riled up. While the denizens of Bizarro World haven't crossed over yet, there is plenty of threat with Lana-Rho the Bizarro Superwoman flying around. Jon (Jordan Elsass), Jordan (Alex Garfin), and Sarah (Inde Navarrette) are all at the town hall meeting with their parents and naturally become the new targets of Superwoman and a villain who she freed's return is more than welcome. Joined by Natalie (Tayler Buck), we get to see the young Superboy and Steel put the hurt on and bring the hammer down (quite literally). However, Sarah had never seen Jordan fly around or shoot lasers before and it soon makes sense why her mother had urged them to break up. It's another helping of truth served Smallville style, done far more right than the first half of the episode.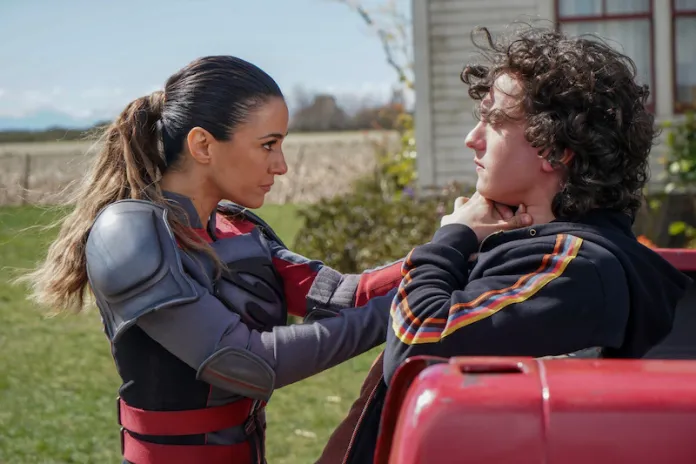 If you're new to the Arrowverse, then you should know that whenever Superman is unavailable Steel (Wole Parks) will show. While this John Henry from an alternate Earth has all the makings of a Man of Steel, he still has some faults his daughter calls him out for. If there's one thing about John, it's how overprotective he is of his loved ones yet how he has no regard for his own life in the line of battle. He goes after Ally all on his own heroically or foolishly (you can decide), much to Natalie's chagrin, and leaving her in a very familiar position. A part of me feels as though the next episode will open with his fate and what he has discovered. Those X-K coated suits and gravity-powered hammers are going to prove valuable in whatever is going to come. 
Superman & Lois S2 Ep 14: Worlds War Bizarre is an interesting case because you have a Yin Yang of an episode with a jarring premise and then classic superhero fisticuffs. The first half of the Smallville town hall politics set to an almost apocalyptic with a blood red sky feels clunky, especially considering the planet is in the process of not existing anymore. If Darkseid was invading and a big boom tube opened above Smallville, would they do the same? It would have made more sense for Lana to quell a communitywide panic rather than stubborn townsfolk. But the scene where Clark shows up as Superman despite being powerless in order to help her in over the crowd is poetic. Clark and Lana grew up here together and now they each hold titles of local hope and trust – Superman and mayor of Smallville. Meanwhile, all the action is left up to our young heroes who the CW has done an amazing job in getting us invested in. 
Superman & Lois S2 Ep 14: Worlds War Bizarre was anything but with no invasions, disasters, or confrontations with the main villain. It feels like the title wrote a check that the episode wasn't able to cash if you were expecting anything like that. But during the good and the bad of this episode, the world merging is still happening and we have yet to see the full results and consequences. They have no choice but to come to fruition in the next episode since it's the season finale.